Innovator Training Scheme
The Innovator Training Scheme (ITS) is a joint programme between Manchester BRC and Translation Manchester and will support researchers to explore and develop innovations and routes to clinical impact, alongside industry partners, and exploit their research for the benefit of patients.
The academic, clinical and wider societal impact of translational research can only be fully maximised by harnessing the industrial and commercial ecosystems in which they are delivered.  Greater Manchester has a unique healthcare ecosystem which supports innovation and implementation of research.
Recognising this, the BRC industry and training teams have developed the proposed 'Innovator Training Scheme' (ITS), in partnership with Translation Manchester and the Wellcome Trust Translational Partnership Award.
Join in and get the latest on the programme on Twitter at #MCRinnovator.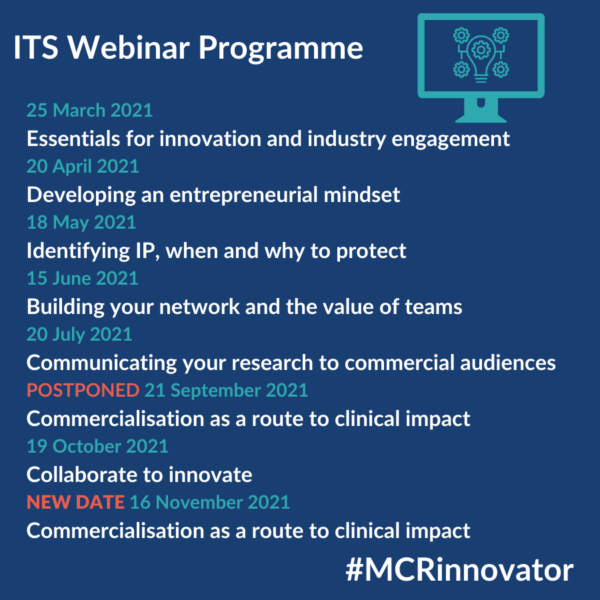 What is the Innovator Training Scheme (ITS)?
The NIHR Manchester BRC helps to bridge the gap between scientific discoveries and life-saving care and treatment for all, through delivering pioneering clinical research.
Based at The University of Manchester, Translation Manchester provides support and training for pre-clinical researchers to navigate and overcome barriers that block the progression of their research.
The aim of this joint programme is to equip and inspire researchers to explore and develop impactful research alongside industry and commercial partners.
Through a series of monthly webinars and other support, the ITS will nurture and support participants on their journey to creating innovative partnerships, new opportunities for collaboration, and a culture of pioneering translational research.
What will I learn?
The programme will develop essential skills, knowledge and networks for research collaboration, including entrepreneurship, networking and communication to promote innovation and commercialisation as a career path for researchers.
Participants will have access to:
Monthly webinars from leading Manchester researchers and industry experts.
Regular blogs and case studies featuring successful researchers and collaborations.
Bespoke advice and signposting for their projects through regular drop-in 'industry clinic' sessions with the BRC industry team, as well as mentoring and networking.
Online resources, including recordings of each webinar session on the Manchester BRC YouTube channel.
A full list of webinar topics is available in the events section below.
Who is it for?
The ITS is ideal for early-to-mid career researchers and staff who are looking to expand their knowledge, skills and networks of commercial research and innovation and the support available across Manchester.
This could include PhD students, clinical fellows, MS's, research associates, research assistants, lecturers and new academics, as well as core research staff, such as study co-ordinators, project managers, technicians and bioinformaticians.
The programme is open to researcher staff and students across The University of Manchester, Manchester University NHS Foundation Trust (MFT), The Christie NHS Foundation Trust, and Salford Royal NHS Foundation Trust.
When does it take place?
This initial pilot programme will run from March to November 2021, with webinars and drop-in clinics taking place each month.
A follow-up programme of training support across other aspects of translational research will be also be offered by Translation Manchester from November 2021. Further details on this will be announced later in 2021.
Do I have to attend the whole programme?
No, you can attend as many or as few sessions as you wish to meet your needs. However, due to the interactive nature of some sessions there is a limited capacity and places will be offered in the first instance to those enrolled on the whole programme.
In addition, those who do opt to enrol for the whole programme will have the opportunity for mentoring and support to pitch an innovation to commercial experts in a Dragons den style final session. Successful pitches will be offered further mentorship via Manchester Innovation Factory, the Masood Entrepreneurship Centre and the Alderley Park Accelerator programme.
Register for events and watch back
Participants can find out more about each webinar session and book their place by following the booking links below:
Pitching Event - application details - closes Wednesday 3 November
Do you have an innovative research idea that you want to translate to the next level? Would you like to be mentored to hone your pitch? Or have a desire to build strengths and experience in pitching your research? Then this event is for you.
What to expect:
Access to training resources and 1-2-1 mentorship to help you develop your value proposition and hone your pitch.
Group practise session (optional).
Dragons Den quick fire pitching session (3-minutes) – pitch your idea to our expert panel to receive feedback and advice.
As places for this session are limited, we are accepting applications of a short abstract describing your innovation or idea.  You don't need pilot data or years of research, this session is really about honing your pitching skills, so the abstract can be around an original or theoretical idea. Your innovation could be anything from a service change to a new therapy, app or device.
If you need help, please refer back to the sessions on Intellectual Property and Communicating your research, and if successful further training resources will be made available. Your abstract should clearly describe the need and potential impact of your innovation to patients or the Health service.
A prize will be awarded for the best pitch on the day and ongoing mentorship for all applicants.
Application details:
Please email your abstract (using the Pitching Abstract Template) and any questions to translation@manchester.ac.uk and include 'Pitching Event' in the email subject by the end of Wednesday 3 of November.
Successful applicants will be informed by Friday 5 November
Group/Peer-to-peer Pitching Practice – Thursday 25 November at 13:00
Pitching Event – Wednesday 8 December at 15.30
Innovator Insights blogs
Below you can find our dedicated Innovator Insights blogs – featuring top tips and insights from speakers and industry colleagues throughout the programme.
Further information
For more information on the ITS, please contact:
Dr Colette Inkson, Innovation and Partnerships Manager
colette.inkson@mft.nhs.uk
Jane Crosbie, Manchester BRC Training Lead
Jane.Crosbie@manchester.ac.uk