Manchester BRC researchers receive prestigious national appointments
NIHR Senior Investigators are among the most prominent and prestigious researchers funded by the NIHR and the most outstanding leaders of patient and people-based research.
Professor Rick Body, BRC Innovation and Partnerships Lead,  Professor Maya H Buch, Rapid Translational Incubator Theme Lead, and Professor Paul Dark, Respiratory Non-fungal Infections Programme Lead, are three of 30 new Senior Investigators appointed for 2022 across England, with 25 previous awardees also reappointed. This brings the College of Senior Investigators up to 500 members across England.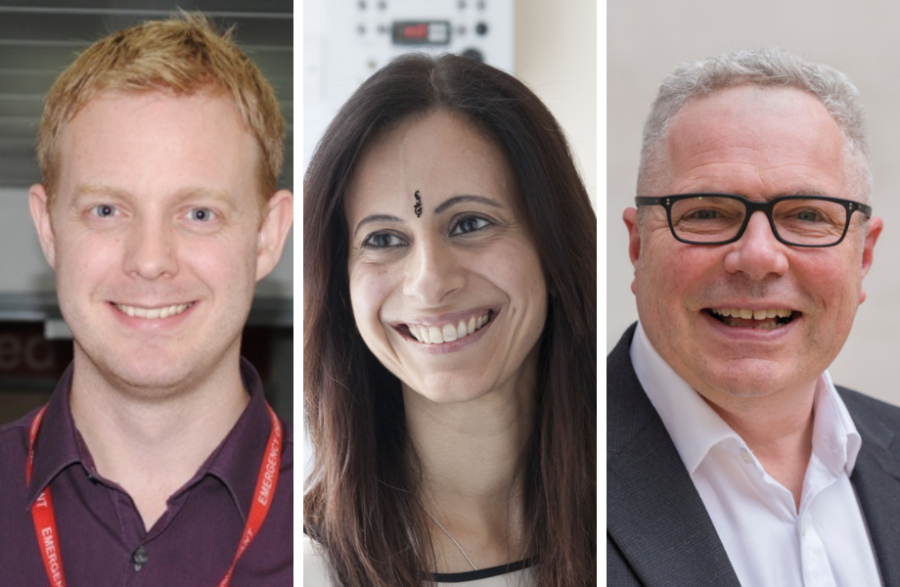 Collectively, Senior Investigators help guide research capacity development and enhance the career paths of NIHR researchers, including taking part as mentors in the NIHR mentoring programme.
Researchers are awarded Senior Investigator status based on their contributions to the NIHR, quality and volume of international research and its relevance to patients and the public, researcher leadership, and engagement of patients, the public and healthcare policymakers and planners.
Outside his BRC role, Professor Body is Group Director for Research and Innovation at Manchester University NHS Foundation Trust (MFT), Honorary Consultant in Emergency Medicine at MFT's Manchester Royal Infirmary, and Professor of Emergency Medicine at The University of Manchester (UoM). He is also Deputy National Specialty Lead, Injuries and Emergencies at the NIHR Clinical Research Network (CRN), and has led a range of studies into emergency care and point of care testing for acute myocardial infarction (AMI, or heart attack), as well as the national CONDOR/FALCON study investigating rapid testing for COVID-19.
Professor Body said:
I am honoured by this award, and I hope the platform it provides will allow me to nurture the next generation of healthcare scientists and to develop valuable partnerships between the NHS, academia, patients and the public and the life sciences industry.
"In doing so there are huge opportunities to improve the health of our patients and communities, enhance the accessibility and efficiency of healthcare and stimulate economic growth."
Professor Buch is a Professor of Rheumatology at UoM, Director of Experimental Medicine at UoM's Centre for Musculoskeletal Research, and Honorary Consultant Rheumatologist at MFT's Manchester Royal Infirmary. She is also Chair of the NIHR-Versus Arthritis UK Musculoskeletal Translational Research Collaboration (TRC) and leads the CARDIO-IMID UK Network. Her research looks at personalised therapeutics of rheumatoid arthritis and other autoimmune conditions, as well as cardiovascular risk and management of these conditions.
Professor Buch said:
I am really pleased to have received this award. I will use this platform to improve the lives of people with chronic inflammatory conditions and inspire a diverse next generation of researchers."
In addition to his BRC role, Professor Dark is also the national Clinical Research Network academic and clinical oversight strategic lead for a cluster of four NIHR specialties, Professor of Critical Care Medicine at UoM, and a Critical Care Consultant at Salford Royal Hospital.
As a researcher, he has a particular interest in sepsis, novel diagnostics, the development of integrated pathways of care, and improving global humanitarian responses. He was co-investigator and funded co-applicant of the RECOVERY-RS Urgent Public Health study, and played a key role in the research response to the COVID-19 pandemic.
Professor Dark said:
I am delighted to have this opportunity to work more closely with colleagues nationally to develop care research through the NIHR, and also to represent our local communities to be more included and served, for improved health outcomes.
For more information on NIHR Senior Investigators, visit the NIHR website.