Top ten research priorities for detecting cancer early published
Manchester cancer researchers, patients and health professionals have drawn up a 'Top Ten' list of unanswered questions to shape future research into cancer early detection and prevention.
The questions, published in The Lancet Public Health, address areas with little or no existing research, and aim to help researchers, funding bodies and the biotechnology industry to prioritise their research efforts.
The study was led by the NIHR Manchester BRC and The University of Manchester, in collaboration with the James Lind Alliance, and used a 'priority setting partnership' to develop consensus between researchers, healthcare professionals, patients and others.
Professor Emma Crosbie, BRC Early Detection Programme Lead and Professor of Gynaecological Oncology at The University of Manchester, co-led the study with Professor Andrew Renehan, BRC Cancer Prevention and Early Detection Deputy Theme Lead and Professor of Cancer Studies and Surgery at the University of Manchester.
Professor Crosbie said:
"Early detection is key to improving outcomes from cancer. The earlier we detect it, the more likely it is we can cure it and reduce the harms of treatment."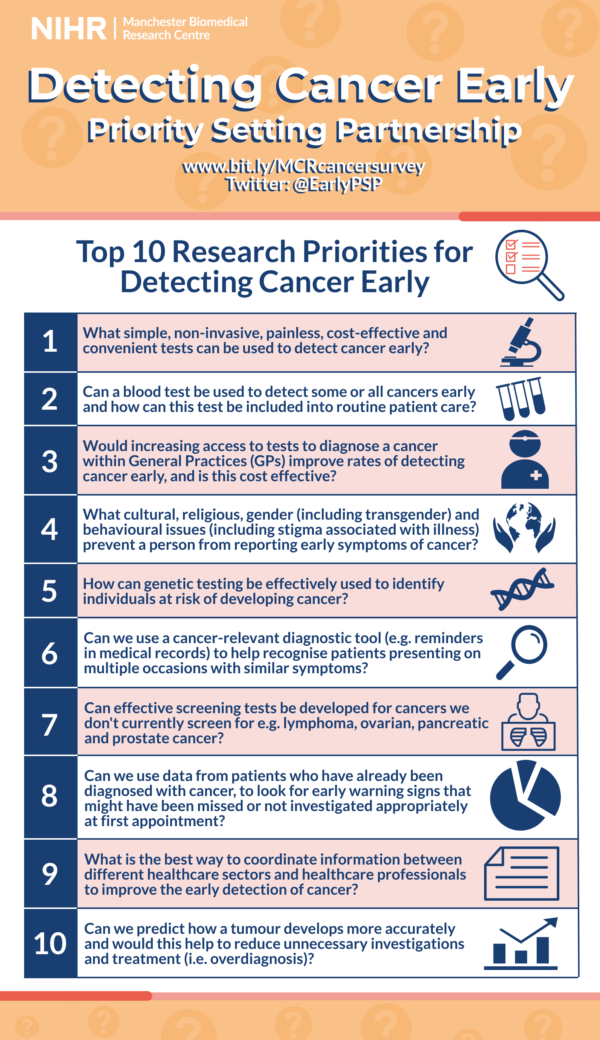 Professor Renehan said:
"Cancer early detection research is underfunded compared with funding for cancer treatment-related research, and where this type of research is happening, it is generally in isolation.
"The advantage of the NIHR Manchester BRC is that it brings together a dynamic team of internationally recognised researchers across a number of cancer and cross-cutting areas, enabling earlier cancer detection, matching an individual to the prevention treatment most likely to work for them, and working to help prevent conditions progressing into cancer in the first place."
"This top ten research priority project has systematically pulled thinking in this field together. This will focus efforts into questions that patients, the public and health professionals want to see answered."
Former nurse Emily Lam, 70, from Prestbury, Cheshire was diagnosed with breast cancer in October 2016 and was one of the participants in the research. She said:
"I'd been very health conscious and went for all the usual call-ups for screening and thought I was alright until I developed a lump between screenings. I thought screening just isn't enough. We really need to have more research to detect cancer early.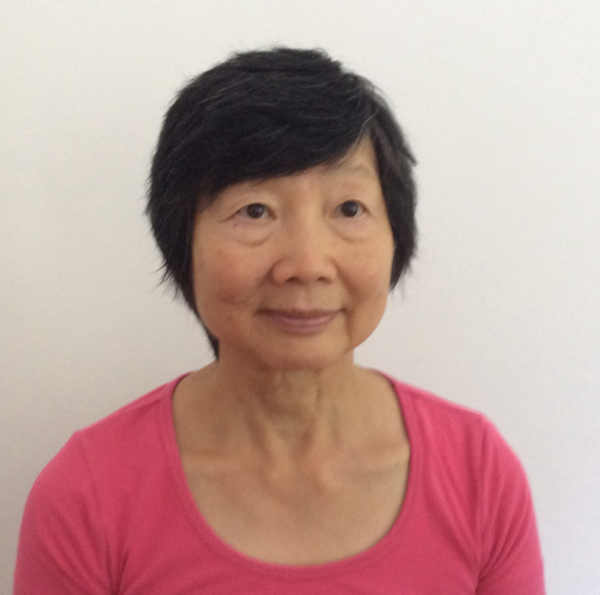 "In my case, earlier detection would probably have spared me the gruelling effects of chemotherapy and allowed me to have a better quality of life.
"It's important to involve patients and carers from the start of research, so their voice can be heard and become an equal partner in setting research priorities.
"Even though my own top ten will have been different from other members of the group, I think the final list is a reflection of the opinions and experiences of all of us. Hopefully it will lead to research and resources in the right areas, meeting the needs of cancer patients, and supporting the priorities of the health professionals."
Research was carried out between June 2018 and September 2019 in the form of two online surveys, followed by the facilitated workshop in September in Manchester, where a panel of researchers, patients, their family members and healthcare professionals worked together to decide on the final list.
Dr Ellena Badrick, BRC Cancer Data Scientist and Project Co-ordinator, The University of Manchester, said:
"The priority setting partnership process is designed to balance the research agenda with those priorities identified by patients and healthcare professionals. Often there is a mismatch between research questions considered important by patients, carers and healthcare professionals and the research performed in early detection."
Dr Patricia Ellis, James Lind Alliance Advisor, said:
"It was my pleasure to work with the Steering Group as they followed the James Lind Alliance process through to the final workshop. The levels of interest, enthusiasm and engagement across all participants lead to rich and informed debate resulting in consensus on top ten research priorities."
Further information about the project is available on the Cancer Prevention and Early Detection page.