Detecting Cancer Early Priority Setting Partnership
Between June 2018 and September 2019, we asked cancer patients, their carers and families, academics and healthcare professionals what they felt were the top priorities for future research into detecting cancer sooner.
Early detection and prevention is crucial if we are to improve outcomes from cancer. However it is recognised there needs to be a major shift in research in this area if we are to effectively address the changing epidemiology of people developing cancer and living longer.
The aim of this research was to draw up a 'Top Ten' list of questions which address areas with little or no existing research, which could be help prioritise the efforts of future cancer researchers, funding bodies and the biotechnology industry.
A key strength was to reach a consensus between what researchers and academics are currently working on  and the top priorities of healthcare professionals, patients and others affected by cancer.
The Top 10 Research Priorities for Detecting Cancer Early
The final Top 10 priorities were published in The Lancet Public Health in September 2019.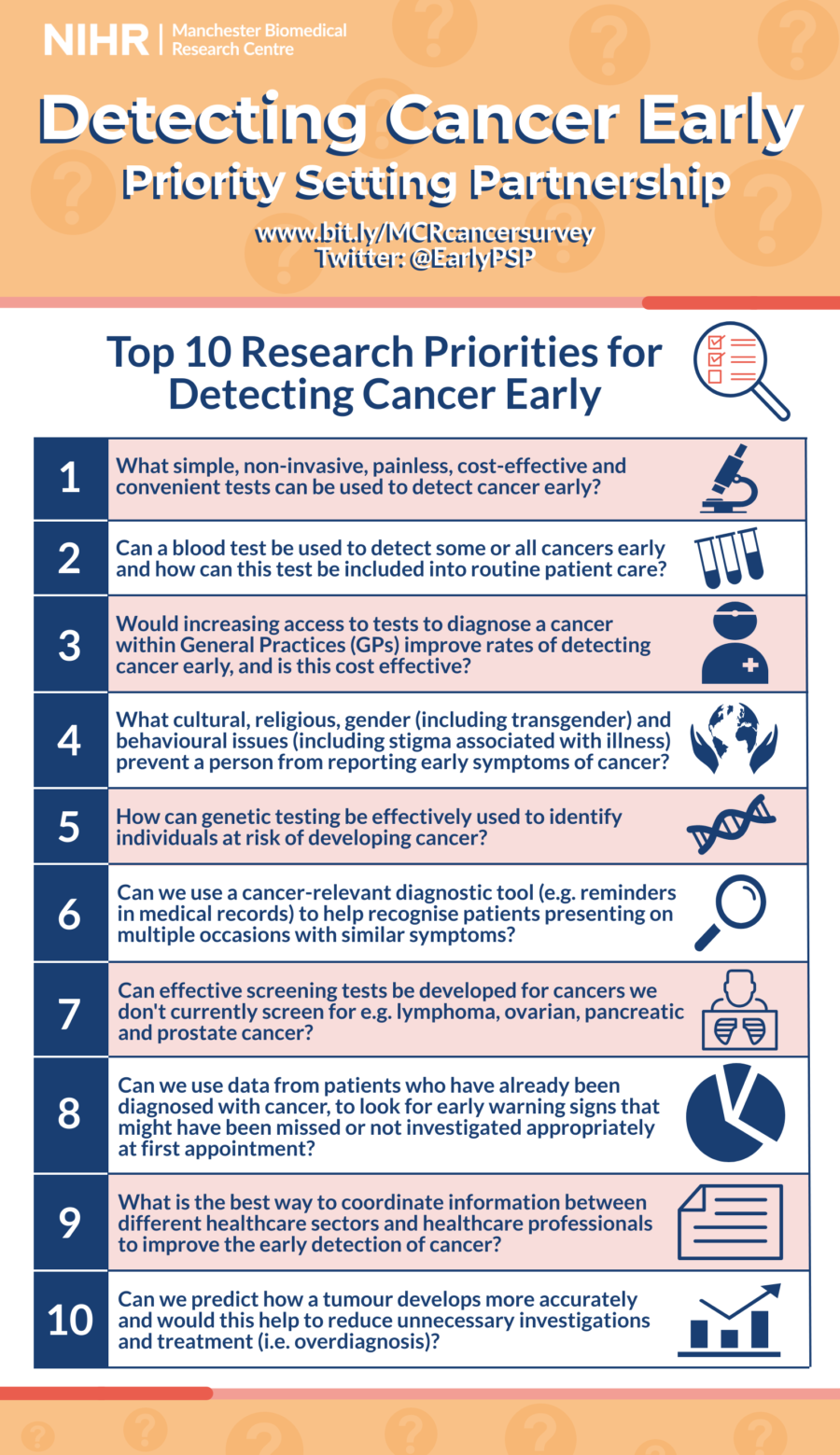 How we developed the Top 10
The research was led by Professors Andrew Renehan, Cancer Prevention and Early Detection Deputy Theme Lead, and Emma Crosbie, Early Detection Programme Lead, in collaboration with The University of Manchester and The James Lind Alliance. A steering group made up of researchers, healthcare professionals, cancer patients and carers was created to oversee the work .
An online public survey was carried out between December 2018 and February 2019, asking what people felt was important to them in cancer early detection, which received over 1300 responses. The responses were grouped into 54 questions across a range of topics, and checked to see whether there was existing research already published.
A second online survey between July and August 2019 then asked participants were asked to choose which ten questions from this list were most important to them. We had 241 responses, from which the steering group chose the 26 most important questions  to both patients and healthcare professionals.
This shortlist was taken to a facilitated workshop in September 2019, where an equal panel of researchers, healthcare professionals, cancer patients and carers, discussed and decided on the final Top 10.
We hope the questions in the Top 10 will inform future directions with funders of research and will drive researchers to consider these as priorities alongside their own research plans.
Further information about this research
This researched used a Priority Setting Partnership (PSP) methodology from the internationally-recognised James Lind Alliance. A PSP aims to bring together patients, carers and healthcare professionals to jointly identify priorities for research.
The study was run in collaboration with the NIHR Manchester BRC, The University of Manchester and The Christie NHS Foundation Trust. Updates throughout the study can be found on Twitter @EarlyPSP.

The project steering group was comprised of patient representatives, researchers and healthcare professionals. It was approved by The University of Manchester's Research Ethics Committee (reference number: 2018-4400-7542).
For more information about this work, please contact:
Dr Ellena Badrick
Survey Project Manager & Cancer Data Scientist
ellena.badrick@manchester.ac.uk
0161 918 2349