Innovator Insights blog – Dr Annie Yarwood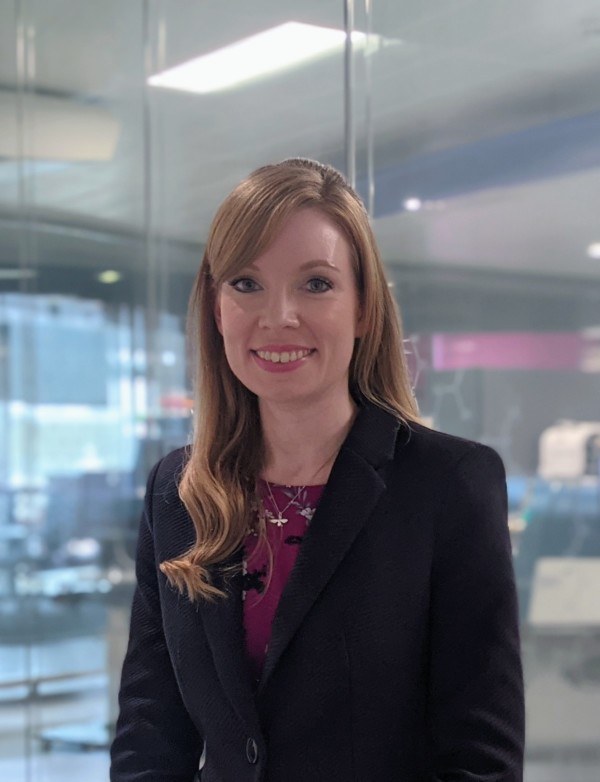 One of the key questions you are often asked as a researcher is, 'how will your work have impact?' Often, the pathway to impact is a long and complicated one, with many caveats. When the opportunity arose to work in innovation and be part of DiTA – supporting innovators to translate scientific findings into the clinic, and facilitate the use of innovative technology to prevent disease and improve early diagnosis and treatment – it seemed like the perfect fit.
DiTA explained
DiTA is part of the wider Research and Innovation (R&I) service at MFT, and was set up to support high quality evidence generation for new in-vitro diagnostics (IVDs) and medical technologies (MedTech). DiTA can work with innovators, whether they are clinicians, commercial companies, or academics, to develop the evidence they require to progress their technologies along the innovation pipeline.
The aging UK population and the rising prevalence of chronic disease, coupled with the global pandemic, have increased demand for early and effective diagnostic tests. This along with the aim of a personalised medicine approach to healthcare have seen the diagnostics and MedTech market increase dramatically in recent years will undoubtably require the advent of more personalised diagnostics. However, the time from innovation to adoption in the health and care system can be 10+ years, and innovators often face many challenges when navigating the pathway to commercialisation and adoption in the NHS.
This is where DITA can help. New innovations begin in the lab with research, Manchester BRC is driving forward research to address major health challenges. DiTA can support academics who have new innovative ideas, technologies, or biomarkers which they want to commercialise.
DiTA currently works around three pillars of activity
Providing expert advice
DiTA can work with academics in the early stages of design and development. This could be providing expert clinical advice about how a diagnostic would best fit into the current care pathways, identifying key challenges and unmet needs that a new technology or diagnostic could address or determining the evidence required to demonstrate that a diagnostic could improve clinical care.We would always advise getting clinical advice and input into a project early as there may be other aspects of the clinical care pathway that are important to consider, for example how the test will fit in with other routine tests or how the results will be integrated into current hospital systems.DiTA can partner academics with clinicians or one of our many industry partners, and manage these commercial relationships for you.
Providing patient samples
Access to patient samples is often one of the challenges faced by innovators in both the private and public sector.As DiTA sits within MFT, we can provide researchers with access to patient samples for pre-clinical testing or pilot studies at their own site in their own labs.
Conducting clinical studies to establish clinical validation and utility
In order to take an innovation to the next stage, clinical evidence is required. DiTA can set up and run clinical validity and utility studies.Working with a multidisciplinary team of experts, we can generate real-world evidence, test accuracy, and compare to the standard of care. We can further identify clinical partners, help with protocol design, study set up, ethics applications, and trial management.
Rapid access to samples and data
As part of DiTA's offer, and as part of pillars two and three, we are currently setting up the VALIDATE platform study, which will allow rapid access to patient samples and data. VALIDATE will be an innovative design study, which we aim to be fully operational by October 2022.
The study, which is not disease or infection specific, will allow us to slot projects in under an overarching ethical framework, providing a streamlined process for researchers to access patient samples. The study will be MFT-sponsored, and will be open to clinicians, academics, and commercial companies.
VALIDATE will primarily focus on demonstrating analytical and clinical validity through observational studies. There will be a master protocol that outlines the scope and objectives of the platform. Stemming from that, there will be a sub-study, with its own performance evaluation plan and/or protocol for each biomarker or device that we want to test, containing the specifics of the trial design.
Adding studies as amendments will significantly reduce the amount of work and time involved in setting up clinical studies. We hope that VALIDATE will be able to support researchers within Manchester BRC to rapidly access patient samples for research and co-development studies. Researchers can use the platform for generating pilot data, testing a biomarkers in clinical samples, looking at clinical validity or determining diagnostic accuracy.
Successes to date
DiTAs biggest success story so far is CONDOR – the government backed national platform to rapidly evaluate COVID-19 diagnostic tests. DiTA was the lead in this programme, which was funded by the NIHR, UKRI, Asthma+Lung UK (formerly Asthma UK and the British Lung Foundation).
FALCON was the hospital-based arm of the study, which was run by Professor Rick Body, MFT Director of Research and Innovation and a Consultant in Emergency Medicine at Manchester Royal Infirmary, who was also Director of DiTA at that time of the study. CONDOR evaluated more than 30 tests and recruited patients from more than 30 hospital sites.
The platform significantly contributed to the rapid roll out of COVID-19 tests across Europe, transforming the response to the pandemic.
DiTA can also be a partner on grant applications to set up and run clinical studies and manage commercial relationships. DiTA has worked with LumiraDX to generate clinical evidence for their 'D-Dimer' diagnostic point-of-care test, as well as COVID-19 diagnostics. LumiraDx has gone on to secure a £6.7m agreement with NHS Scotland to roll out its COVID-19 diagnostic, while its work with DiTA continues to develop further diagnostic abilities of the device. Part of this work includes setting up a study to collect samples to run on their point of care device to validate testing for multiple conditions which is in development.
Supporting innovators
As an academic working with the commercial sector can often seem like going over to 'the dark side', however the reality is that working with companies can help to take your ideas and make them into commercially available solutions.
Making commercial partnerships has the potential to diversify your funding opportunities and income, generate new ideas and take the impact of your research beyond publications into true clinical benefit.
DiTA can manage these relationships for you, ensuring that projects progress at pace and taking away some of the administrative burden of setting up clinical studies. Our ultimate ambition is to facilitate the development of new innovations, using a streamlined process to generate the evidence required to validate these technologies and initiate their adoption into the NHS, ultimately improving the health and care of the GM population and beyond. To achieve this, we need to encourage clinicians, academics, patients, the NHS and industry work in partnership to ensure that Manchester is at the forefront of innovation.
DiTA's scope is broad, we are not limited to a specific clinical area, as long as the project involves the development of new diagnostics around IVDs, or MedTech and addresses an unmet need we are happy to review your project. If we believe your project could benefit from our support, we will set up a 30-minute scoping meeting to understand more about your project and discuss how we could potentially help.
If you have a project  that you would like to discuss with DiTA,  please contact them via dita@mft.nhs.uk, or by completing their online enquiry form.