Focus on childhood arthritis – Professor Wendy Thomson speaks to Arthritis Digest
Arthritis Digest is a magazine for people with arthritis that highlights the latest relevant research and reviews topical issues. In 2020, researchers within our adult and childhood arthritis programmes will be featured in every issue, opening with Professor Wendy Thomson, our Programme Lead for Inflammatory Arthritis in Children.
About childhood arthritis
Arthritis in children and young people presents unique challenges but new research is improving treatments and outcomes for those affected.
Juvenile Idiopathic Arthritis (JIA) is an inflammatory condition that starts in children and young people under the age of 16 years. The inflammation or swelling of the joints in JIA can lead to reduced movement and can have a significant impact on a child's physical, social and emotional wellbeing.
Unlike adult forms of inflammatory arthritis children are also at risk of inflammation in the eyes (uveitis). JIA is relatively rare, affecting around one in 1,000 children in the UK, which is roughly one child in an average sized secondary school. This rarity can mean children and young people with JIA do not feel understood by their peers, who may lack knowledge and awareness of this 'invisible' condition and its impact.
While it can be invisible to outsiders, JIA has a very real impact on people who have it, as well as on their families.
Professor Wendy Thomson
Treatment
One of the challenges facing families in which a child is diagnosed with JIA is uncertainty. Some children get better quickly with not much treatment needed, while other children may need to be treated for a longer period of time. Some children may also continue to have arthritis when they are adults. A classification system for JIA groups children into different subtypes based on clinical features, but outcome and response to treatment can vary both between and within these subgroups, adding to this uncertainty.
There are currently no clinical or biologic tools that can help decide on the best treatment or predict response to treatment. Some children will be given a steroid injection and respond well but a large majority of children will be treated with a drug called methotrexate.
Unfortunately, a common side effect of methotrexate is severe nausea, which in some cases can be controlled with anti-nausea medication but not always.
However, only a proportion of children respond to methotrexate. For children that don't respond, newer biologic therapies are required.
Balancing the need for controlling inflammation while minimising side-effects can be very challenging for both doctors and families.
Childhood arthritis and NIHR Manchester BRC
The childhood arthritis research we carry out here at NIHR Manchester BRC focuses on targeting treatments to specific patients based on their genetic profile.
This 'precision medicine' approach is central to all the research we carry out, as it takes into account individual variability in genes, environment, and lifestyle for each person and allows us to predict more accurately which treatment and prevention strategies will work best for the individual.
Emily and Harriet's story
Emily Earle lives in London with her family. She has three children including Harriet, who is 11 years old and was diagnosed with JIA when she was a toddler.
The family first noticed something was wrong with Harriet while on holiday in Cornwall when she developed a limp in the mornings but then seemed fine again in the afternoons. They thought this might be due to a bump she had earlier in the week.
Emily took Harriet to the GP but – as is often the case in children and young people – it took several months before a diagnosis was made. Harriet was prescribed a weekly methotrexate injection, which has a big impact on her and the family.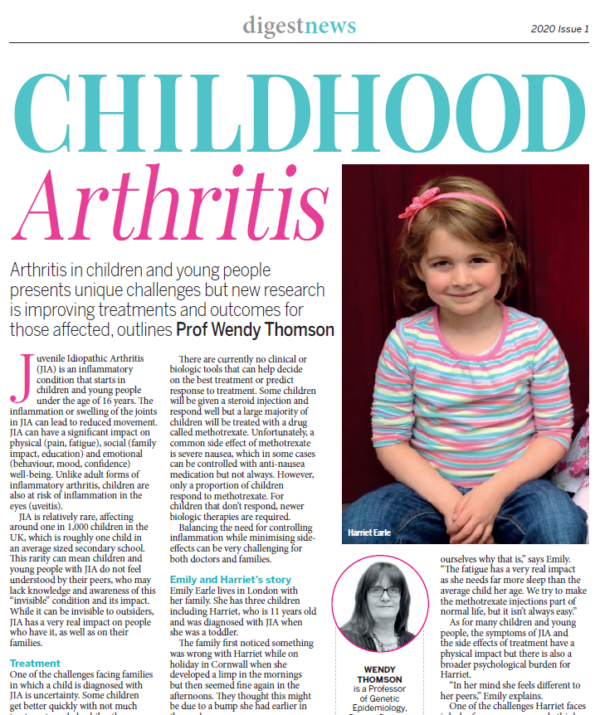 The 48 hours following the injection Harriet can be quite tired and moody, and we have to remind ourselves why that is. The fatigue has a very real impact as she needs far more sleep than the average child her age. We try to make the methotrexate injections part of normal life, but it isn't always easy.
Emily Earle
As for many children and young people, the symptoms of JIA and the side effects of treatment have a physical impact but there is also a broader psychological burden for Harriet.
One of the challenges Harriet faces is lack of awareness as people think arthritis is just an older person's disease. Everyone's heard of asthma or diabetes but very few people have heard of a child with arthritis.
Emily says their family is lucky in many ways as methotrexate works well for Harriet, which isn't the case for all children and the drug, coupled with regular physiotherapy and strength exercises, keeps Harriet's symptoms largely under control.
In her mind she feels different to her peers. Harriet does everything her peers do – she plays netball, she swims, she does her ballet exams – we're really proud of her
However, for many children methotrexate does not work or is not enough and they may have to trial several different drugs before they hit on the right one. This can be challenging for all involved and is one of the many reasons that research is so important. The search for the right medication can leave children to become more disabled than they need to be. If every child could have access to the right medication for them first time it would be life-changing.
Research – genetics
We don't know what causes JIA but we do know that genes play a role.
Recent work has led to a significant increase in our knowledge of the genes involved in JIA. We have been able to show that each of the JIA subtypes has genes in common with a similar inflammatory disease in adults. This has implications for understanding disease mechanisms (which pathways are involved), identifying new treatments and shared clinical trials.
However, right now it only provides limited information to help identify the right medication for every child first time. This is where CLUSTER comes in.
Research – precision medicine
The CLUSTER consortium brings together experts from six UK universities, industry partners and patients/families with the aim of developing new targeted treatments for JIA and JIA-associated uveitis.
Studies are looking at long-term outcome, safety of biology medication and response to treatment. CLUSTER will bring together data and samples from these studies and two clinical trials to identify genetic alterations, immune cell differences, blood proteins and clinical features that can be used as biomarkers of treatment response and disease course for arthritis and uveitis. The work should also lead to the development of new therapies.
Jasmine's story
Jasmine is 16-years-old and lives in Cornwall with her family. She is in sixth form studying A-levels in physics, biology and maths, and hopes to pursue a degree in medical physics.
"For me the diagnosis was quite quick although I know for other people it can take a long time," she said.
"My dance teacher noticed my knee was swollen and we went to the doctor.
"We thought it was just one of my knees, and then they realised that my toe, which had been hurting for a long time, had arthritis as well. My toe is now permanently damaged and the arthritis has spread to most of my joints."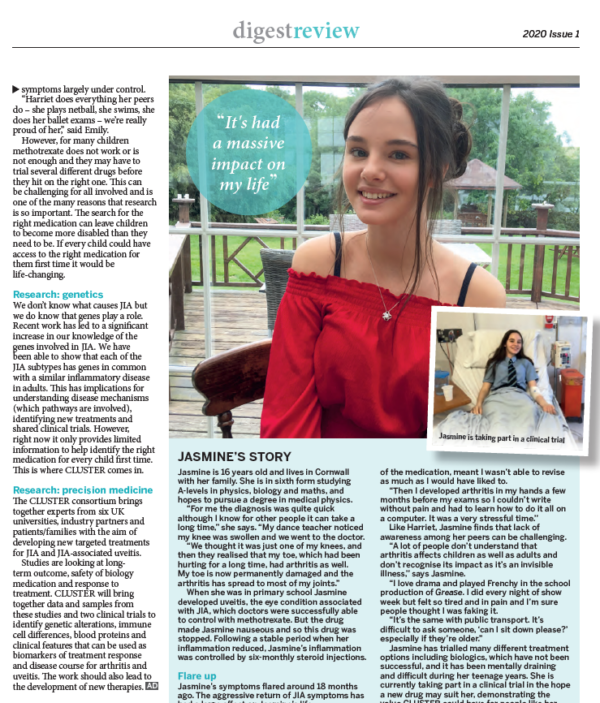 When she was in primary school Jasmine developed uveitis, the eye condition associated with JIA, which doctors were successfully able to control with methotrexate. But the drug made Jasmine nauseous and so this drug was stopped.
Following a stable period when her inflammation reduced, Jasmine's inflammation was controlled by six-monthly steroid injections. However, her symptoms flared around 18-months-ago.
The aggressive return of JIA symptoms has had a large effect on Jasmine's life.
"I had been doing many sports, including swimming at county level," Jasmine said.
Since my flare-up I haven't been able to exercise at all and I'm finding it quite difficult. It's had a massive impact on my life because I haven't been able to do the things that I want to do or go out with my friends a lot.
"It was really hard when I was doing my GCSEs. Being so tired and having so many hospital appointments, added to the side effects of the medication, meant I wasn't able to revise as much as I would have liked to.
"Then I developed arthritis in my hands a few months before my exams so I couldn't write without pain and had to learn how to do it all on a computer. It was a very stressful time."
Like Harriet, Jasmine finds that lack of awareness among her peers can be challenging.
A lot of people don't understand that arthritis affects children as well as adults and don't recognise its impact as it's an invisible illness.
"I love drama and played Frenchy in the school production of Grease. I did every night of show week but felt so tired and in pain and I'm sure people thought I was faking it.
"It's the same with public transport. It's difficult to ask someone, 'can I sit down please?' especially if they're older."
Jasmine has trialled many different treatment options including biologics, which have not been successful, and it has been mentally draining and difficult during her teenage years. She is currently taking part in a clinical trial in the hope a new drug may suit her, demonstrating the value CLUSTER could have for people like her.
"I'm doing my Extended Project Qualification at school on personalised medicine, which is what CLUSTER is all about," said Jasmine.
"Trial and error will hopefully become a thing of the past. If I'd been on a targeted treatment from the beginning, I wouldn't have had to spend so much of my teenage years struggling with this condition."
Subscribe to Arthritis Digest or call 0845 643 8470 for a hard copy of the January edition, in which professor Thomson's article was featured.