Top 10 priorities for detecting cancer early – things we learnt during our research
Since then we have showcased our research to cancer researchers from around the world, including at October's Cancer Early Detection conference in Stanford, California, the annual National Cancer Research Institute (NCRI) conference in Glasgow.
I've been a podcast guest (have a listen) for The University of Melbourne's Primary Care Collaborative Clinical Trials (PC4) Group, and presented at November's Greater Manchester Cancer Conference, where we won the prize for best poster submission.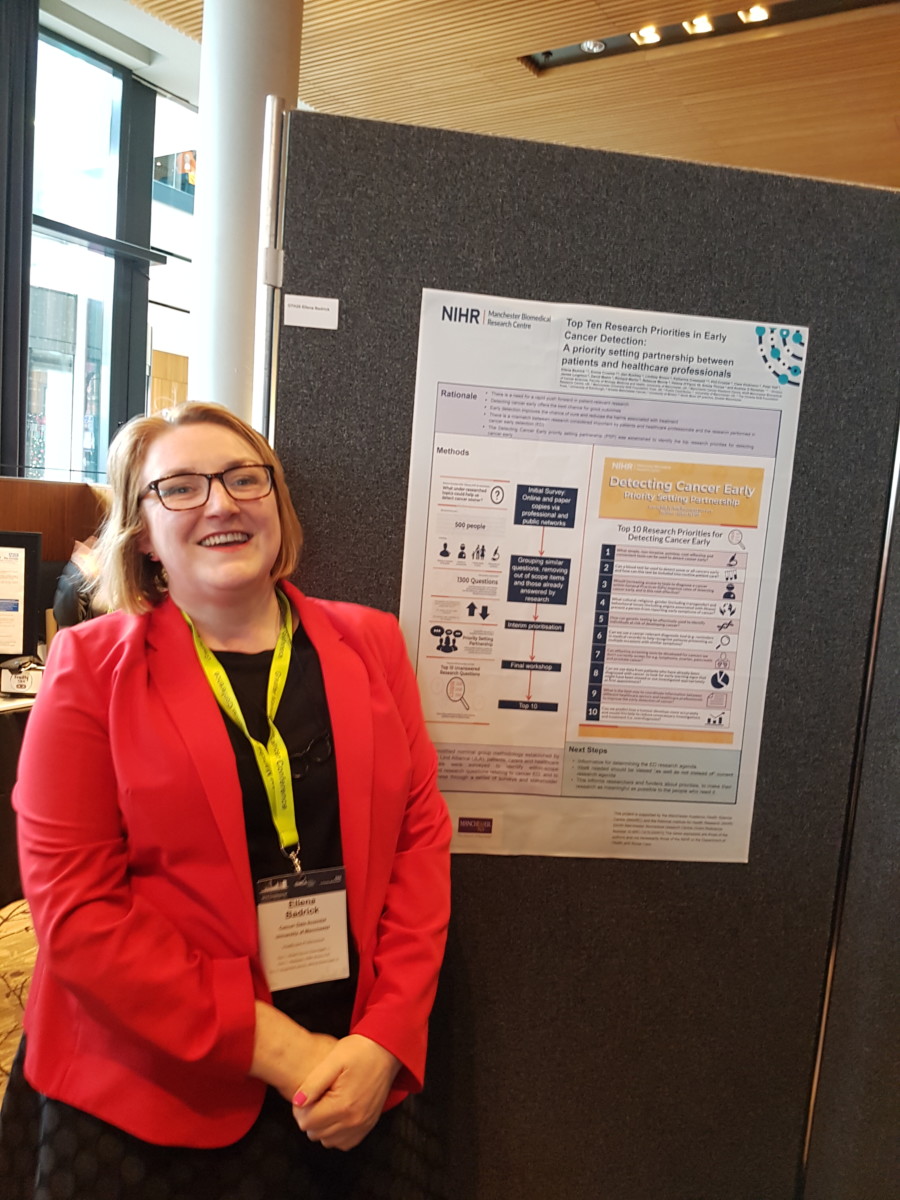 There has also been a major development in early detection research. Cancer Research UK (CRUK) recently announcing a new £40 million International Alliance for Early Detection (ACED), with The University of Manchester (part of the NIHR Manchester BRC) one of the five centres, co-led by the BRC's Cancer Early Detection Theme Lead, Professor Gareth Evans.
This is a major step forwards for early detection research.
Alongside the BRC's vision to drive health improvements and lasting change for all through creative, inclusive and proactive research, we hope our priorities will help influence and guide some of this work in the future.
As this project comes to a close, I thought I'd share some of my reflections on the project:
Early detection is a massive field
The hardest thing was how diverse and broad the area of early detection is. We tried to ensure we didn't focus too much on one area of early detection during the project – such as cancer screening or on specific cancer types – but things that could be applied across the early detection area. This was because we wanted to shape research that could go on to help the most amounts of people as possible.
However, early detection means different things to different people. For some people it meant developing new tests for early diagnoses, or understanding how to better implement existing tests into clinical practice, while others focused on how we can prevent cancer altogether, either through screening or vaccination, as seen with recent advances in HPV vaccinations.
Simple vs scientific – a fine balance
Throughout the two surveys and final workshop, we had input from a broad range of people, each with a different perspective and level of understanding of cancer and healthcare more generally.
One thing I was conscious of throughout the project was our use of language. We wanted to deliver research that was both easy to understand by those outside of research and healthcare, but which would have scientific meaning still be taken seriously by the research community.
This was hard and difficult to negotiate at times but we didn't want to rush it. As a steering group we spent a lot of time thinking things through and how to word research questions throughout each stage.
The value of consensus
One of the aims of using the James Lind Alliance priority setting partnership (PSP) method, was to build an equal consensus between the priorities of researchers and healthcare professionals, and those of patients, family members and others.
Condensing down more than 1,600 online responses, developing them into relevant research questions, and deciding which should go to the final workshop was a major group effort. At the final workshop itself, we spent the day discussing shortlisted questions in detail and why they should make the final 10.
We had 28 participants, all with different perspectives and life experience. I'm sure if we were to all decide a final ten priorities individually, then we would probably get 28 different top 10s. The value of this work is that we reached a consensus on what we all felt were the major priorities for early detection together.
I'd also like to share thoughts from some of the members of our project steering group:
My experience of the research process has been very enjoyable plus enlightening. To get people to engage in research they really need to see outcomes , publications in journals is just a start of a long process I know, but seeing that from little seeds great things can grow or just come to a halt many years down the line is important not just from a participatory point of view but also monetary.
Gen Buckley, family contributor
I felt that the views of public contributors were valued and reflected upon and the project benefited from the insights that the health care professionals brought to the table. I found that I learnt a lot from them and that at times both parties changed their views because of the insight shared by others.
Lindsey Brown, public contributor
I found the process an extremely effective method of reaching a consensus. I appreciated how much thought the team put in to ensuring that the ranking of the research questions was carried out as fairly as possible.
Lee Malcomson, Data Manager
I found the process an extremely effective method of reaching a consensus. I appreciated how much thought the team put in to ensuring that the ranking of the research questions was carried out as fairly as possible.
Dr Helena O'Flynn, GP & Clinical Fellow