Saint Mary's Hospital surgical team wins national award for cancer research
A surgical team at Saint Mary's Hospital in Manchester recently received a prestigious national award for their role in surgical trials for cancer research.
The Endometrial Cancer Research Group, led by BRC Cancer Early Detection Programme Lead Professor Emma Crosbie, were presented with the Cancer Research Excellence in Surgical Trials (CREST) award at the National Cancer Research Institute (NCRI) 2019 conference in Glasgow on 5 November.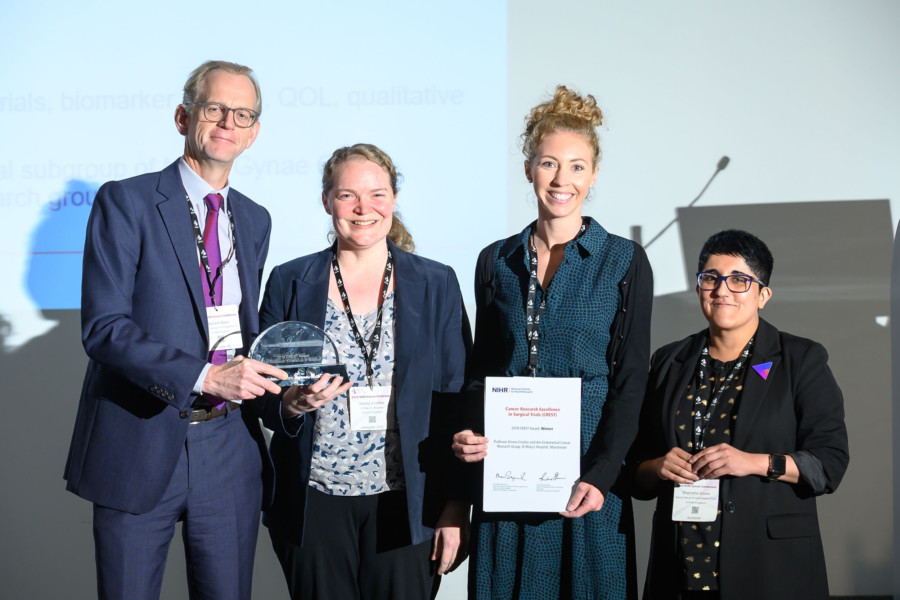 Now in its sixth year, the award recognises surgical teams who have made the greatest contribution in recruitment across the National Institute for Health Research (NIHR) cancer trials portfolio. The team was given the award based on their strong recruitment to clinical trials, breadth of studies, evidence of multidisciplinary working, and in nurturing the next generation of surgical oncology researchers.
Professor Crosbie, who holds a joint role across The University of Manchester and Manchester University NHS Foundation Trust, said:
"This award is a real credit to the team and their commitment to delivering pioneering cancer research. Over the past year we've recruited nearly 1,500 women across eight different studies, spanning prevention and early detection of gynaecological cancers.
"Endometrial cancer has received very little research attention in the past, despite being the fourth most common cancer affecting women in the UK, and we are working hard to redress this balance.
"Bringing together highly skilled research staff from general practice, genetics, gynaecological surgery and oncology backgrounds means we can deliver a breadth of clinical trials that reflect the patient journey, from identifying women as being at high risk of cancer, reducing their risk through novel interventions and establishing new, non-invasive technology for detection of cancers at the earliest, most treatable stage.
"The NIHR Manchester BRC builds connections between our world-leading researchers and clinicians across our University and NHS Trusts.
"We're proud to attract and mentor brilliant young clinical research fellows to our group. This ensures we have a pipeline of talented, research-active principal investigators from gynaecological oncology, primary care and oncology backgrounds to champion endometrial cancer research in the future."
Karen Connolly, Chief Executive Officer of Saint Mary's Hospital, said:
"This is a fantastic achievement for Emma and the Endometrial Cancer Research Group, and demonstrates their commitment to delivering wide-ranging and innovative research programmes to improve care for our patients.
"Saint Mary's Hospital is one of the leading international providers of gynaecology services, and we're proud to have so many highly skilled staff working together across our clinical services and research."
Earlier this year, Professor Crosbie and her team also led research on how urine testing could prevent cervical cancers, co-authored guidelines on the management of gynaecological cancers in Lynch syndrome, and set the top research priorities for cancer early detection.
Further information on this work is available via our Cancer Prevention and Early Detection theme page.