Psoriasis Association honours BRC Dermatology Theme Lead
The award marks the invaluable support Professor Griffiths has given to the charity for more than 20 years, offering vital expertise on the Psoriasis Association Medical and Research Committee, reviewing grant applications and advising the Trustees on the research strategy.
Professor Griffiths is world-renowned for his expertise in psoriasis and has long-standing research interests in all aspects of the condition.
He led the establishment of the British Association of Dermatologists Biologics and Immunomodulators Register (BADBIR) to investigate the short and long-term safety of treatment with biologics – drugs made from living organisms, or components of living organisms, and which target specific points in a person's immune system.
This ongoing study has already helped to reposition the biologic, ustekinumab, as a first-line treatment in the British Association of Dermatologists prescribing guidelines 2017, following comparison to etanercept and adalimumab. As a result of this research, thousands of patients are now prescribed the most effective and safe biologic and have more stable and safe disease control, without the need to switch therapy or suffering disease flare-up.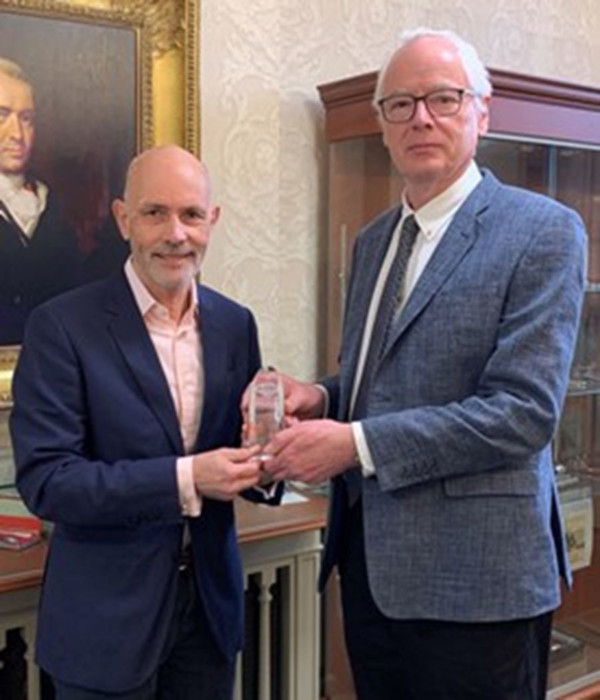 Professor Griffiths is also a member of the steering committee for the PsoProtect registry. The Manchester BRC-supported international registry was established to understand how psoriasis and the medications that are used to treat it might influence the severity of COVID-19. The initial findings from the PsoProtect registry were published in the Journal of Allergy and Clinical Immunology.
Professor Griffiths, who is also Emeritus Professor of Dermatology at the University of Manchester, said: "I am humbled and honoured to receive this recognition from the Psoriasis Association and delighted that I can continue to serve the organisation.
Psoriasis affects more than two million people in the UK, and it can have a big impact on a person's life in terms of both physical and mental wellbeing. Although it is currently incurable, considerable progress has been made over the past decade to further understand the causes of psoriasis, leading to more effective treatment options. I am excited about the potential developments continued research in this area could realise.
On awarding the Honorary Life Vice President position, Nick Evans, Chairman, Psoriasis Association, said: "The Psoriasis Association has benefitted greatly from Professor Griffiths' support and involvement over many years. He was first awarded a research grant from the Psoriasis Association in 1998 and has been a supportive friend and colleague to the charity for many years.
"We are grateful for his commitment and dedication to our work during this time and look forward to continuing our association."
Manchester BRC's psoriasis programme is working towards discovering, refining and implementing novel, targeted treatment pathways to improve the management of the condition.