Myositis – Professor Hector Chinoy speaks to Arthritis Digest
Myositis is a rare autoimmune disease that involves an abnormal immune reaction against the body's own organs, most commonly muscle, skin and lungs, which leads to inflammation.
The main symptoms are muscle weakness, pain, fatigue, rashes and shortness of breath. This usually gets slowly worse over time.
Who gets it?
Mostly adults, but children can be affected too. The two main types of myositis are:
Polymyositis – that affects many areas of muscle in the body but is not seen elsewhere in the body.
Dermatomyositis – that affects muscle and skin.
However, there are even less common types of myositis, such as inclusion body myositis, which causes progressive muscle weakness around the knees and hands. Necrotising myopathy causes muscle cells to rapidly die and, in very rare cases, is triggered by taking statins.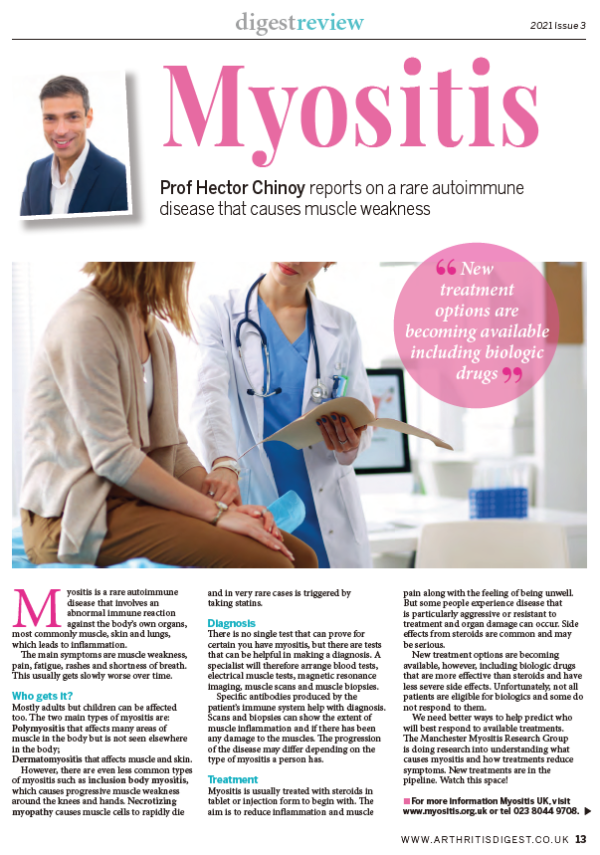 Diagnosis
There is no single test that can prove for certain you have myositis, but there are tests that can be helpful in making a diagnosis. A specialist will therefore arrange blood tests, electrical muscle tests, magnetic resonance imaging, muscle scans and muscle biopsies.
Specific antibodies produced by the patient's immune system help with diagnosis. Scans and biopsies can show the extent of muscle inflammation and if there has been any damage to the muscles. The progression of the disease may differ depending on the type of myositis a person has.
Treatment
Myositis is usually treated with steroids in tablet or injection form to begin with. The aim is to reduce inflammation and muscle pain along with the feeling of being unwell. But some people experience disease that is particularly aggressive or resistant to treatment and organ damage can occur. Side effects from steroids are common and may be serious.
New treatment options are becoming available, however, including biologic drugs that are more effective than steroids and have less severe side effects. Unfortunately, not all patients are eligible for biologics and some do not respond to them.
We need better ways to help predict who will best respond to available treatments. The Manchester Myositis Research Group is doing research into understanding what causes myositis and how treatments reduce symptoms. New treatments are in the pipeline. Watch this space!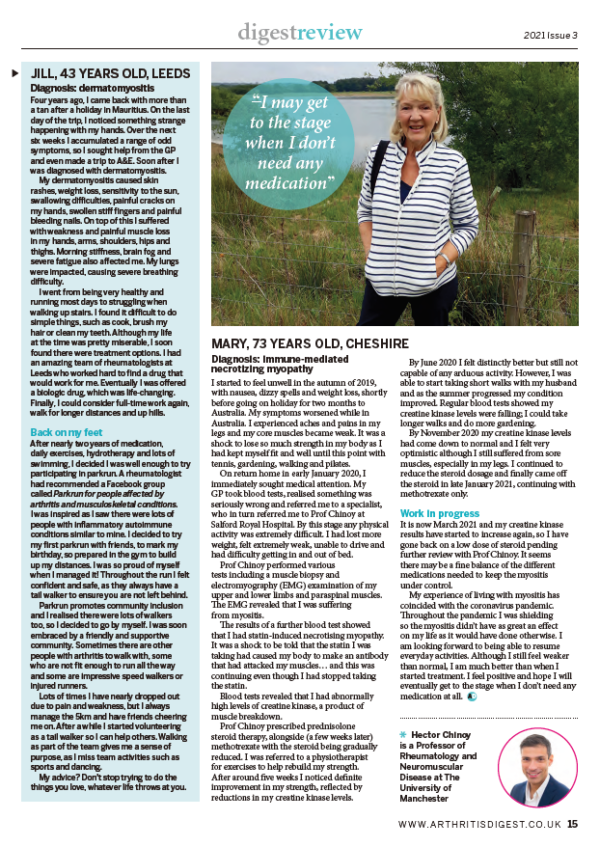 Mary, 73 years old, Cheshire
Diagnosis: immune-mediated necrotizing myopathy
I started to feel unwell in the autumn of 2019, with nausea, dizzy spells and weight loss, shortly before going on holiday for two months to Australia. My symptoms worsened while in Australia. I experienced aches and pains in my legs and my core muscles became weak. It was a shock to lose so much strength in my body as I had kept myself fit and well until this point with tennis, gardening, walking and Pilates.
On return home in early January 2020, I immediately sought medical attention. My GP took blood tests, realised something was seriously wrong and referred me to a specialist, who in turn referred me to Professor Chinoy at Salford Royal Hospital. By this stage any physical activity was extremely difficult. I had lost more weight, felt extremely weak, unable to drive and had difficulty getting in and out of bed.
Professor Chinoy performed various tests including a muscle biopsy and electromyography (EMG) examination of my upper and lower limbs and paraspinal muscles. The EMG revealed that I was suffering from myositis.
The results of a further blood test showed that I had statin-induced necrotising myopathy. It was a shock to be told that the statin I was taking had caused my body to make an antibody that had attacked my muscles – and this was continuing even though I had stopped taking the statin.
Blood tests revealed that I had abnormally high levels of creatine kinase, a product of muscle breakdown.
Professor Chinoy prescribed prednisolone steroid therapy, alongside (a few weeks later) methotrexate with the steroid being gradually reduced. I was referred to a physiotherapist for exercises to help rebuild my strength. After around five weeks I noticed definite improvement in my strength, reflected by reductions in my creatine kinase levels.
By June 2020 I felt distinctly better but still not capable of any arduous activity. However, I was able to start taking short walks with my husband and as the summer progressed my condition improved. Regular blood tests showed my creatine kinase levels were falling; I could take longer walks and do more gardening.
By November 2020 my creatine kinase levels had come down to normal and I felt very optimistic although I still suffered from sore muscles, especially in my legs. I continued to reduce the steroid dosage and finally came off the steroid in late January 2021, continuing with methotrexate only.
Work in progress
It is now March 2021 and my creatine kinase results have started to increase again, so I have gone back on a low dose of steroid pending further review with Prof Chinoy. It seems there may be a fine balance of the different medications needed to keep the myositis under control.
My experience of living with myositis has coincided with the coronavirus pandemic. Throughout the pandemic I was shielding so the myositis didn't have as great an effect on my life as it would have done otherwise. I am looking forward to being able to resume everyday activities. Although I still feel weaker than normal, I am much better than when I started treatment. I feel positive and hope I will eventually get to the stage when I don't need any medication at all.
Jill, 43 years old, Leeds
Diagnosis: dermatomyositis
Four years ago, I came back with more than a tan after a holiday in Mauritius. On the last day of the trip, I noticed something strange happening with my hands. Over the next six weeks I accumulated a range of odd symptoms, so I sought help from the GP and even made a trip to the Emergency Department (ED). Soon after I was diagnosed with dermatomyositis.
My dermatomyositis caused skin rashes, weight loss, sensitivity to the sun, swallowing difficulties, painful cracks on my hands, swollen stiff fingers and painful bleeding nails. On top of this I suffered with weakness and painful muscle loss in my hands, arms, shoulders, hips and thighs. Morning stiffness, brain fog and severe fatigue also affected me. My lungs were impacted, causing severe breathing difficulty.
I went from being very healthy and running most days to struggling when walking up stairs. I found it difficult to do simple things, such as cook, brush my hair or clean my teeth. Although my life at the time was pretty miserable, I soon found there were treatment options. I had an amazing team of rheumatologists at Leeds who worked hard to find a drug that would work for me. Eventually I was offered a biologic drug, which was life-changing. Finally, I could consider full-time work again, walk for longer distances and up hills.
Back on my feet
After nearly two years of medication, daily exercises, hydrotherapy and lots of swimming, I decided I was well enough to try participating in Parkrun. A rheumatologist had recommended a Facebook group called Parkrun for people affected by arthritis and musculoskeletal conditions.
I was inspired as I saw there were lots of people with inflammatory autoimmune conditions similar to mine. I decided to try my first Parkrun with friends, to mark my birthday, so prepared in the gym to build up my distances. I was so proud of myself when I managed it! Throughout the run I felt confident and safe, as they always have a tail walker to ensure you are not left behind.
Parkrun promotes community inclusion and I realised there were lots of walkers too, so I decided to go by myself. I was soon embraced by a friendly and supportive community. Sometimes there are other people with arthritis to walk with, some who are not fit enough to run all the way and some are impressive speed walkers or injured runners.
Lots of times I have nearly dropped out due to pain and weakness, but I always manage the five kilometre and have friends cheering me on. After a while I started volunteering as a tail walker so I can help others. Walking as part of the team gives me a sense of purpose, as I miss team activities such as sports and dancing.
My advice? Don't stop trying to do the things you love, whatever life throws at you.