Manchester leads on research to reduce the risk of serious side-effects from cancer treatment
A research programme called Living With and Beyond Cancer (LWBC) led by The Christie NHS Foundation Trust with The University of Manchester as part of the National Institute for Health and Care Research (NIHR)  Manchester Biomedical Research Centre (BRC) is looking into ways of reducing the risk of health problems caused by cancer treatment.
Using £2.47 million of funding over five years from the National Institute for Health and Care Research (NIHR)  Manchester Biomedical Research Centre the team will investigate how to minimise the long term effects of cancer treatment which can significantly impact on some patients' quality of life and life expectancy after cancer.
Earlier detection and better treatments mean more than three million people in the UK are now living with and beyond cancer, a figure estimated to rise to 5.3 million by 2040 (Macmillan, October 2022).  Although this is good news, some cancer treatments can increase the risk of second cancers, heart disease, bone and joint problems, hormone deficiencies and depression and anxiety.
Historically, patients who lived long term after cancer had up to a 40% chance of getting a serious side-effect* years later depending on the type of treatment received. With improvements in therapy introduced over the last 10-20 years these risks have lessened. This research will aim to minimise these risks even further.
Professor John Radford, Consultant Oncologist at The Christie, Professor of Medical Oncology at The University of Manchester, and Manchester BRC LWBC Theme Lead who is leading the research said: "With many more patients now being cured or living in long term remission than was the case years ago, the impact of cancer treatment on future health is increasingly recognised as an important area for study.
"At The Christie we are sharply focused on reducing these long-term consequences of treatment that undermine the quality and length of our patients' lives. Through patient focused, collaborative research our mission is to understand the mechanisms by which cancer treatments increase the risk of heart disease, second cancers, and weakened bones, and develop ways that can prevent or lessen these risks.
We are very grateful for this substantial award from the NIHR to Manchester's Biomedical Research Centre that will help us achieve our goal. Crucially, we couldn't do any of this without the support of cancer patients who help us understand their perspectives and allow us to use their expertise and experience to guide and inform our research.
One patient who the research team has worked closely with is Jack Richardson, 31, a father of three from Stockport in Greater Manchester.  When he was 25 years old he became ill and thinking he had a chest infection, was prescribed antibiotics by his GP. When there was no improvement and he was struggling to breathe and in pain, he went back to his doctor and was referred for a scan and discovered he had a tumour the size of a grapefruit in his chest, as well as tumours either side of his neck and both armpits. He also had fluid round his heart and lung and in September 2017 was diagnosed with Stage 4 (advanced) Hodgkin lymphoma, a blood cancer and the most common cancer for teenagers and young people.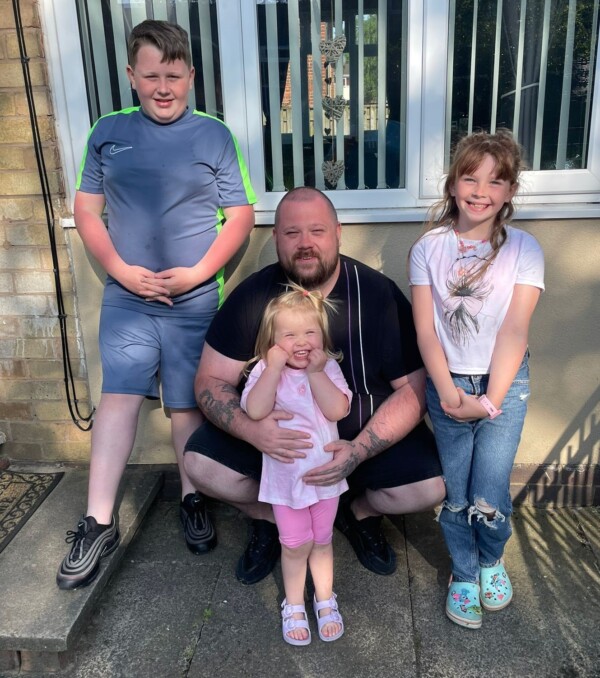 Jack was immediately referred to The Christie for treatment, including six cycles of chemotherapy followed by radiotherapy to the chest which he completed in May 2018.  The treatment was successful and he is now in remission with currently no signs of cancer.
Then in October 2019 Jack suffered a heart attack and was diagnosed with heart disease which may have been a result of the cancer treatment. He now suffers from shortness of breath, has angina, and takes aspirin, a statin and a beta blocker. Jack lives with his partner, and they have a two-year-old daughter Amelia Grace. He also has two children Oliver, 12, and Ava, 7, from a previous relationship.
Talking about his cancer experience, Jack Richardson said: "I thought I was perfectly healthy so to discover I had a tumour the size of a grapefruit in my chest was a huge shock. I wasn't aware of it at all and didn't even feel that ill. The NHS were amazing, and once discovered, the response was rapid and I was fast tracked for treatment. I do get out of breath quickly now and will have to take medication for my heart for the rest of my life, but I feel fine and I'm back at work and enjoy spending time with my three children. I feel lucky to be alive and I make the most of every day.
If my story can help others, that can only be a good thing. I'm very keen to support the work of Professor Radford and his team to help reduce the risk of serious side-effects from cancer treatment in the future.
*van Nimwegen et al JAMA Intern Med. 175(6):1007-17 (published 2015 using data over the previous 25 years)