Manchester BRC Biomarkers week – What is a biomarker and why are they important?
Manchester is a leading centre for biomarker development, brought together by the NIHR Manchester BRC's biomarkers 'cross-cutting' research theme.
Our biomarkers research spans the fields of genomics, proteomics, clinical imaging, and biostatistics, and supports our mission to drive health improvements, and bridge the gap between new discoveries and individualised care.
What is a biomarker?
The World Health Organisation (WHO) defines biomarkers as "any substance, structure, or process that can be measured in the body or its products and influence or predict the incidence of outcome or disease."
This can cover a range of measureable physiological or pathological processes. Simple indicators include heartrate or blood pressure, whilst highly complex tests on tissue, blood and other bodily fluids are used to look for DNA or specific genes and proteins. Clinical imaging and even questionnaires can be considered biomarkers too.
What sets biomarkers apart is that they look to establish objective and measurable signs of a condition or disease, rather than relying on observation by clinicians or patients reporting their symptoms.
Why are they so important?
With people living longer and with multiple long-term health conditions (called co-morbidities), the need to predict, diagnose and treat complex conditions has never been greater. Some methods for diagnosing or treating conditions, such as surgery or inserting cameras for investigations, are often invasive for patients, as well as expensive for the NHS.
Professor Tony Whetton is our Biomarkers Cross-Cutting Theme Lead, and Director of the Stoller Biomarker Discovery Centre at The University of Manchester. Over the course of his 40-year career, most of which has been spent in Manchester, his research has centred on haematology and leukaemia, before turning towards the development of a biomarker discovery lab.
He explained:
Biomarkers are an integral part of the BRC's mission to transform scientific breakthroughs into life-saving treatments and care for patients. They are essential to modern day healthcare.
"We need quicker, more effective ways to diagnose and treat disease, if we are to cope with higher numbers of patients with one or more long-term conditions. A biomarker enables us to give the right treatment, at the right time, and right dose to patients.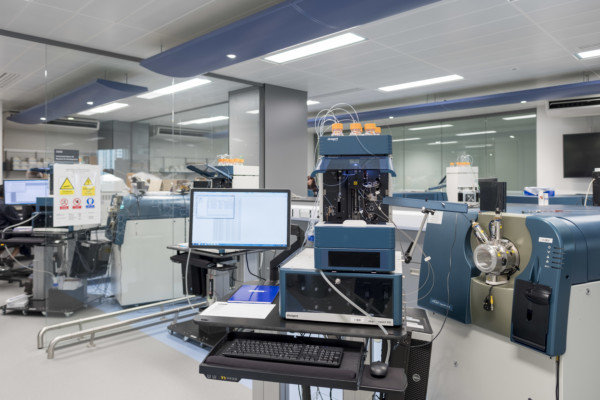 "It's still the case that a high number of treatments given to patients in the NHS are ineffective, show little benefit and cost a lot of money. In some patients they may even be doing them more harm than good. Often they're designed to treat a single disease or its symptoms across a wide range of people, but don't accommodate smaller groups of patients with slightly different characteristics, or symptoms that might make the treatment less effective in this group.
"Biomarkers are helping us to move away from a 'one size fits all' approach to more personalised medicine. Targeted therapies, where science has worked out a disease mechanism and thus a specific and rationally designed drug, need biomarkers to point clinicians down the right treatment path, working with the patient. They also allow us to better monitor how a patient responds to these treatments, and if they are proving ineffective or harmful, to identify alternatives sooner."
Our biomarkers research
As one of our cross-cutting themes, our biomarkers research supports all of the BRC's clinical research themes. To discover and utilise new biomarkers, BRC clinical leads across these themes collaborate with a range of colleagues with expertise across:
genomics – measuring specific genes or part of a patient's DNA
proteomics – looking for and quantifying protein molecules related to disease
clinical imaging – x-ray, magnetic resonance imaging (MRI) or computerised tomography (CT) scan data, or even audiology tests
biostatistics and bioinformatics – investigating large complex data sets, often comprising of many biomarkers for large groups of patients
test validation and clinical utility – working with industry to embed new diagnostic tests into clinical practice.
Tony continued:
"Biomarkers research is a major contributor to the BRC's research portfolio. In our first two years, half of our grant awards had one or more biomarker components within them, with a value of over £61m."
"Manchester has superb infrastructure and expertise to support the discovery of new biomarkers, and help improve outcomes for patients. Facilities like the Stoller Biomarker Discovery Centre, the Manchester Centre for Genomic Medicine, Manchester Cancer Research Centre, and the Institute for Data Science and Artificial Intelligence support leading biomarker research across the BRC. Many components of our platform technologies are unique to Manchester, and also help support other BRCs too."
You can also follow our Biomarkers Week content on Twitter; search for #MCRbiomarkers, or @ManchesterBRC.