Innovator Insights blog – Professor Rick Body
"I first started to engage with industry during my PhD, researching better ways to diagnose acute myocardial infarction (AMI, also known as a heart attack) using biomarkers – research I've continued ever since. At the time, despite a small amount of funding from Central Manchester University Hospitals NHS Foundation Trust (which merged with University Hospital of South Manchester in 2017 to form MFT) covering some of the biomarker analysis, an unsuccessful grant application to the British Heart Foundation (BHF) meant that we couldn't evaluate all of the biomarkers I was interested in. This is when we started to look at options with industry.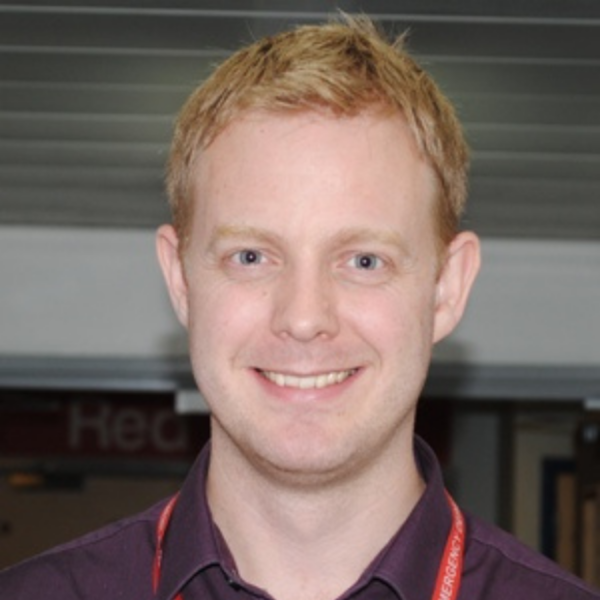 One of my supervisors and clinical biochemist, Dr Garry McDowell, had links with several companies, and introduced me to the team at former American point of care company Biosite. After some discussion and an application, Biosite allowed us to measure eight of their biomarkers in the plasma samples we were collecting at no change. Doing that allowed me to complete my PhD and yielded some very interesting results, which I otherwise wouldn't have been able to get.
Another of Dr McDowell's introductions, Roche Diagnostics, were developing a high-sensitivity cardiac troponin assay, which Dr McDowell expressed interest in measuring in our samples. After project discussions and a successful application for an investigator-initiated study (which was now post-PhD for me), Roche provided the reagents without charge and we analysed the samples. The results were ground-breaking (if I do say so myself!), and showed their new test could identify a way to 'rule out' the diagnosis of AMI with a single blood test. Findings were later verified multiple times in new studies, and have gone on to influence clinical guidelines issued by NICE and the European Society of Cardiology.
From there, I've always maintained my interest in working with industry. I realise how inter-dependent we are.
We need industry to develop the biomarker assays that will help us to address unmet clinical needs, and to make them available for use in healthcare settings. They need us to work out how those assays can add value to current care pathways, and to design and deliver the clinical research to evaluate the effectiveness of their implementation.
What's more, conducting research in partnership with industry is different to purely academic research. When you apply for public funding, all the work is done prior to the application. You submit your application, the reviewers look at it, they give their feedback, and the panel makes its decision. With industry, there's generally more opportunity for dialogue. The company you're working with might be interested in the research but they might want to explore it some more with you through a series of calls. That opportunity for dialogue isn't generally there with publicly funded research. I find that it's a pragmatic approach to ensure that the research is methodologically robust and well designed to achieve its objectives.
Of course, we always have to be careful to manage conflicts of interest. If you conduct research with industry, you should declare it to your employer and on the outputs of your research. While it might compromise your ability to be directly involved in the procurement of products for clinical services, as long as you're always open and transparent about your work with industry, and you think hard about whether your work is appropriate and ethical, I think there's nothing to be afraid of in this regard.
I haven't actually got any personal experience of commercialisation. The closest I came was developing the T-MACS decision aid – which aimed to improve the way we diagnose acute coronary syndromes for Emergency Department patients presenting with chest pain.
The first version T-MACS had commercial potential and I went to see University of Manchester Intellectual Property (UMIP, now known as the Innovation Factory). UMIP involved a patent attorney and decided to file a patent application. I was initially against commercialisation, as I felt that it could lead to us charging hospitals to use T-MACS. Ultimately though, we made a refinement to the algorithm and the patent attorney deemed that it wasn't sufficiently inventive over the original. It was too late to amend the original patent so we proceeded to clinical implementation without commercialisation.
While I was initially pleased, with hindsight I do recognise the value of commercialisation and I suspect that in some ways we may have missed a trick. While the T-MACS algorithm has been successfully implemented in many different hospitals, it has been extremely hard work. If we'd proceeded with commercialisation, then we could have spun out a company that would now be specialising in creating the informatics solutions required to successfully implement the technology on a large scale. It would also have generated the resources to meet Medical Device Regulations as a manufacturer (which costs thousands of pounds), and enabled us to generate additional funding that could have re-invested in developing the technology still further – adding functionality and improving the decision support given to clinicians.
Now I work as Innovations and Partnerships Lead for the BRC,  I am MFT's Group Director for Resarch & Innovation, and was previously the  Director of MFT's Diagnostics and Technology Accelerator (DiTA) for 18 months. Partnership with industry is central to my ongoing research portfolio. I particularly like the fact that this approach tends to have a very good chance of achieving clinical impact.
I strongly recommend working with industry. It's an excellent way to build your academic career, to run research that is beneficial to patients and society, and to maximise the impact of your work with ready-made pathways to facilitate clinical translation."
Visit the Innovator Training Scheme webpage for more resources on industry engagement and commercialising your research.