Collaboration and integration key to success, say leaders at launch event
The NIHR Manchester Biomedical Research Centre (BRC) and Clinical Research Facility (CRF) launch event on 6 June 2017 represented a double celebration. An opportunity to share our aspirations for BRC and CRF, and also to mark the first anniversary of the Greater Manchester Health and Social Care Partnership (GMHSCP), devolution of the city region's £6bn health and social care budget.
The event was opened by Sir Michael Deegan, Chief Executive of Central Manchester University Hospitals NHS Foundation Trust and Professor Dame Nancy Rothwell, President and Vice-Chancellor, University of Manchester.
It also featured presentations from: guest speaker Dr Louise Wood, Director of Science, Research and Evidence, Department of Health; Sir Richard Leese, Leader of Manchester City Council; Rowena Burns, Executive Chair, Health Innovation Manchester; Professor Ian Greer, Dean, Faculty of Biology, Medicine and Health, University of Manchester; Professor Ian Bruce, Director of the Manchester BRC; and Professor Nick Webb, Director of the Manchester CRF.
Around 120 delegates attended the event, which provided an overview of the research plans supported by the NIHR's £41m investment (2017–2022), in the context of the wider GMHSCP.  It was also an opportunity to explore new opportunities to work collaboratively with industry, charities and other partners.
There was genuine excitement throughout the event about the potential to improve people's health through research funded and supported by the BRC and CRF.  The GMHSCP was recognised as offering a unique and unprecedented mechanism for speeding up the translation of this research from 'bench to bedside'.  The potential to instigate such a step change in Greater Manchester's (GM) health outcomes is particularly interesting given the city region's history of poor health.
Health Innovation Manchester (HInM) is an essential component of the GMHSCP, set up to leverage and match the extensive skill sets from The University of Manchester and NHS, with opportunities to work with industry.  HInM provides an end-to-end innovation pipeline, which aims to embed a joined up and integrated approach to developing and adopting new diagnostic tests, treatments and devices that will meet the health needs of the city region (Figure I).
Partnerships with charities, the Northern Health Science Alliance (NHSA), and other national and international networks were also acknowledged as being crucial to maximising the reach of the BRC's and CRF's research to benefit people on a national and international scale.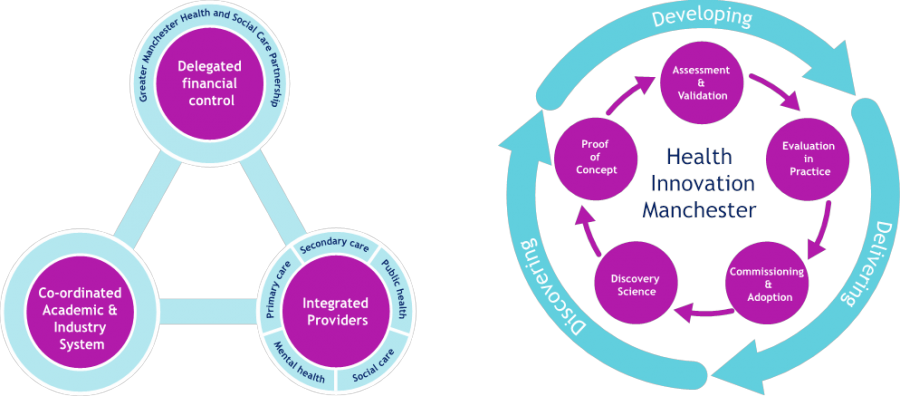 The NIHR continues to have a focus on investing in high-quality research, attracting and retaining the best research professionals, supporting investment from the life sciences industry and embedding Patient and Public  Involvement and Engagement (PPIE) in its approach.
The NIHR BRC and CRF funding is a reflection of the city region's internationally recognised research excellence.  However, at the event leaders also acknowledged that GM's success as the result of an enormous amount of hard work and, importantly, a collaborative mind set across the partnership.
This collaborative approach is reflected in the breadth of the Manchester BRC, which spans several organisations and seven areas of research.
The BRC's research is underpinned by a P4 Medicine strategy to deliver care which is: Predictive, Preventative, Personalised, and empowers patients to Participate in healthcare.  GM's expertise in biomarker platforms, information and data sciences, and ability to rapid translate research findings into clinical care will be key to delivering this strategy.
The devolution of the health and social care budget is a huge opportunity. It provides a defined population, with governance arrangements already in place to drive innovations into health and social care through Health Innovation Manchester. This integrated approach provides commissioners with advanced notice about new technologies coming through and to be prepared to implement these at pace and scale
Professor Ian Bruce, Director, NIHR Manchester BRC
The Manchester BRC also provides an incredible platform for training the next generation of researchers, and using input from patients and the public to shape our research.  We are working with the CRF to develop and deliver joint programmes in these areas.
The Manchester CRF provides a safe, quality assured environment for delivering early phase (experimental medicine) clinical research studies.  From 1 April, the CRF brings together three sites under a single management structure.  Across the three sites, the CRF is in the top one or two nationally in terms of size, number of active studies, recruitment and publications.  It has also recruited 15 global firsts since 2012.
There is currently great geographic variation in rates of participation in research across Greater Manchester. We aim to redress this imbalance, by bringing opportunities to take part in experimental medicine studies to everyone right across the city region.
Professor Nick Webb, Director, NIHR Manchester CRF
As well as being committed to delivering on the BRC's and CRF's ambitious aims, leaders and researchers across GM are already putting in place longer term plans to attract further investment needed to meet the future needs of the city region.
If you would like to explore opportunities to work with us, please contact:
Lisa Miles, Operational Manager, NIHR Manchester BRC
Lisa.Miles@cmft.nhs.uk  / 0161 701 2669
Helen Pidd, Manager, NIHR Manchester CRF
Helen.Pidd@cmft.nhs.uk  / 0161 906 7506