Bridging the Gap – February 2021
"The creation of something new is not accomplished by the intellect but by the play instinct acting from inner necessity. The creative mind plays with the objects it loves."
Carl Jung
Welcome to my February blog. Firstly, I would like to wish our Chinese colleagues a belated Happy New Year, with the start of the Chinese New Year of the Ox last Friday 12 February.
This month I want to focus on some exciting news about training and development linked to the Manchester BRC. The excellent research we do in the BRC focuses on 'driving health improvements and lasting change for all'. One of the words we use to describe our research is 'creative'. Creativity is a vital ingredient in the process of innovation. Without it, we merely observe and describe the natural world around us. As a BRC, it is vital for us to develop the next generation of researchers and innovators and to provide a creative and inventive environment for them to train in.
Innovator Training Scheme (ITS)
As I touched upon in the last edition, I am delighted to formally announce the launch of the Innovator Training Scheme, in collaboration with our colleagues at Translation Manchester.
With Manchester BRC covering three large NHS trusts and a Russell Group university, here in Greater Manchester we're ideally placed to harness the power of industry and maximise its benefit for pioneering translational research.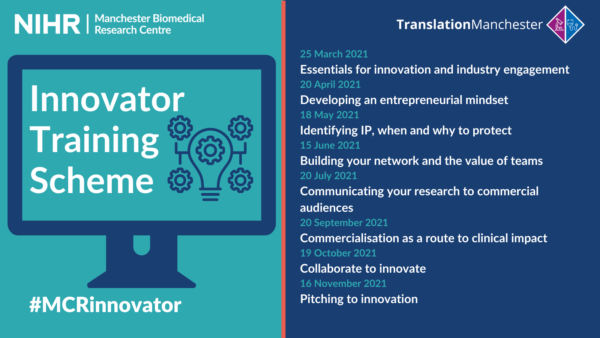 Led by our Industry and Training teams, this exciting programme aims to equip and inspire researchers to explore and develop impactful research, alongside industry and commercial partners. It is aimed at early and mid-career colleagues working in all research-active roles. We hope it will provide you with the skills, knowledge, support and networks you need to start developing innovative research projects with industry.
Between March and November, we will be running a series of monthly online events, featuring our own researchers and partners who have been leading exciting collaborations. There will also be regular advice workshops, career spotlight blogs, and more. Here we'll guide you through the fundamentals for research collaboration, including entrepreneurship, networking and communication to promote innovation and commercialisation, and provide support on how to branch out your own projects into commercial avenues.
This really is an exciting and fantastic opportunity, and I'm delighted to be opening the virtual programme on Thursday 25 March with 'The essentials of innovation and industry engagement', so please do book your place and join us for future events. Our dedicated ITS webpage has all the information you need, including further events, and we'll be updating it with blogs and video catchups as the year progresses. You can also follow updates and get involved on Twitter at #MCRinnovator.
BRC training and development
While we're excited to announce the ITS, I also want to take the opportunity to take a wider a look at training and development across Manchester BRC.
Pioneering research, advances in health, and the development of new care and treatments only happen through the efforts of highly skilled scientists, clinicians and operational staff. The purpose of Manchester BRC and our 'One Manchester' approach is to connect academics, clinicians, healthcare and research staff, industry and wider partners and infrastructure. Through this, we are committed to developing the next generation of researchers. It is our job to provide them with the opportunities, skills and knowledge they need to flourish, so that they can continue to make improvements in patient health and care and deliver cutting-edge translational research.
Since the launch of Manchester BRC in 2017, we have invested heavily in developing and supporting research skills, capacity and capability across the region, including through our funded PhDs, Fellowships, Masters in Research (MRes) programme and experimental medicine placements. We also act as a link to wider opportunities with partners and the national NIHR Academy, with schemes like their various pre or post-doctoral Fellowships and skills enhancement awards. All of these are invaluable opportunities to research-active staff or those looking to take their first steps into clinical research.
Just to summarise the breadth of our support over this period, we have funded 37 PhDs and more than 40 MRes students have registered on the programme. We have also supported 19 experimental medicine placements and welcomed more than 1600 attendees to our various training events. Even as we had to move our events online at the start of the COVID-19 pandemic, our virtual training sessions have welcomed more than 600 attendees, while many of our researchers have supported joint events with the Manchester Academic Health Science Centre (MAHSC), or collaborations such as the February's multidisciplinary imaging event with Northern BRCs and the Northern Health Science Alliance (NHSA).
Recent events have included July's Prediction with AI, November's Respiratory Theme Infection Showcase, and last week's Disease Prevention session. All of these provide researchers and clinicians from across our research themes with the chance to learn from our own leading academics here in Manchester and those from wider afield, and give valuable opportunities for early career colleagues (watch back our early career showcase here) to showcase their work and findings to their peers. The value of these showcases was evident at our Disease Prevention event, where researchers from several themes were able to learn from each other's approaches to similar questions, and begin to establish links and collaborations to enhance their own work and that of their colleagues, in diverse areas such as cancer, dermatology and hearing health.
Investment in these all of these opportunities is paramount, and if it wasn't clear before, the COVID-19 pandemic really has shown the amazing breakthroughs and collaborations science and healthcare can achieve. Advances in research and population health will only been seen through continuous support and nurturing of the amazing scientific talent and expertise we have here in Greater Manchester, and Manchester BRC is committed to ensuring that.
Opportunities currently open include the latest round of our MRres training, due to commence in September, and the MAHSC seminar series event 'SARS-CoV-2: A call to arms' on 24 February. The next round of our experimental medicine placements will open in the spring, while our training team are currently planning a two-day grant application training camp, so look out for more details of these in future editions. Until then, you can visit our training page for more on this scheme and other opportunities.
Elsewhere in the BRC
In wider Manchester BRC news, this month we also saw Professors Jorgen Vestbo and David Denning from our Respiratory theme recognised among highly-cited researchers, while Cancer Prevention and Early Detection's Professor Emma Crosbie published new research on urine testing for detecting womb cancer. The research team believe this simple, non-invasive test could have a major benefit to patients if adopted across the NHS, by improving the number of cases detected and reducing unnecessary investigations for women. The story was also featured in The Times last Friday. Meanwhile, Vocal Manager Annie Keane was recently featured on the national NIHR website, with a blog on their work on the Planet DIVOC-91 comic project and the importance of engaging young people in research. The project has been shared around the globe and it's been fantastic to see it reaching so many people.
Finally, on 11 February Professor Jacky Smith, Programme Lead for Improving Respiratory Symptoms, and Director of the NIHR Manchester Clinical Research Facility (CRF), recognised International Day of Women and Girls in Science, with a look at her own journey into clinical research and the importance of role models and opportunities for women in the field. Jacky also recently stood down as lead for our Rapid Translational Incubator (RTI) cross-cutting theme. I would like to thank her for all of her hard work and commitment to the BRC and CRF, and I look forward to continuing to work with her as we prepare our next BRC and CRF bids. Taking over from Jacky as RTI cross-cutting theme lead, I am delighted to welcome Professor Maya Buch. Maya is an international leader in rheumatoid arthritis research and clinical trials. Nationally, she is Chair of the NIHR/Versus Arthritis Musculoskeletal Translational Research Collaboration (TRC). She will be an excellent addition to our team at this pivotal moment in the life of our BRC.
Until next month, take care and look after yourselves,
Professor Ian Bruce
Director, NIHR Manchester BRC