Manchester BRC Biomarkers week – Clinical imaging
Manchester is a leading centre for biomarker development, brought together by the NIHR Manchester BRC's biomarkers 'cross-cutting' research themes.
Our biomarkers research spans the fields of genomics, proteomics, clinical imaging, and biostatistics, and supports our mission to drive health improvements, and bridge the gap between new discoveries and individualised care.
Clinical imaging, also called medical imaging or radiology, aims to build a visual picture of the inside of a patient's body, to help clinicians to diagnose and monitor a disease or condition, and guide treatment.
It is a broad field that covers a wide range of different technologies and processes, with specialist technicians and doctors trained in each.
Clinical imaging biomarkers
The use of clinical imaging as a biomarker has been an integral part of healthcare and research for over a century. The discovery of the x-ray in 1896 came well before the term 'biomarker' became widely used in medicine in the 1980s.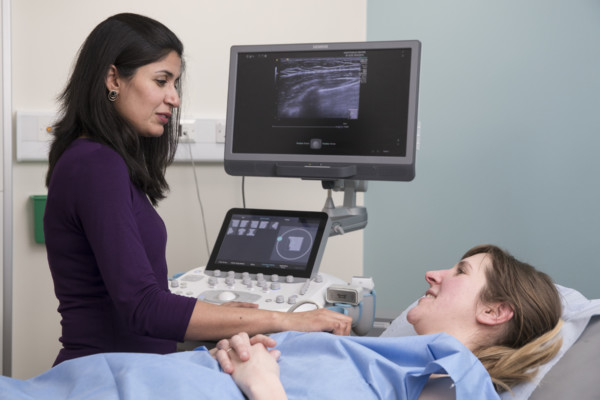 "Imaging biomarkers (IBs) are integral to the routine management of patients with cancer. IBs used daily in oncology include clinical TNM (classification of malignant tumours) stage, objective response and left ventricular ejection fraction. Other CT, MRI, PET and ultrasonography biomarkers are used extensively in cancer research and drug development.
"New IBs need to be established either as useful tools for testing research hypotheses in clinical trials and research studies, or as clinical decision-making tools for use in healthcare, by crossing 'translational gaps' through validation and qualification."
Clinical imaging in Manchester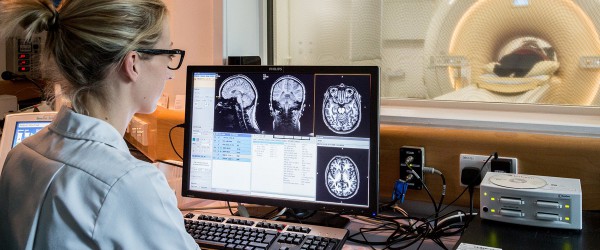 A recent advance in imaging technology has been the opening of the MR-Linac machine at The Christie in 2019. This combines an MRI scanner with a radiotherapy machine, called a linear accelerator, or Linac. It means MRI scans can be taken during a patient's treatment to help guide it, instead of being done separately.
Manchester is also home to the UK's only Hearing Device Research Centre, which tests the latest technologies to treat hearing loss, and accelerates their adoption within the NHS.
Professor Tony Whetton, BRC Biomarkers Cross-Cutting Theme Lead, said:
"Manchester has invested in cutting-edge clinical imaging facilities. These are applied across many different diseases areas and conditions such as cancer, arthritis, hearing health and dementia, and add much value to BRC research."
Our imaging research – new hearing tests in infants
Research within our BRC Hearing Health theme and conducted at the NIHR Manchester Clinical Research Facility (CRF) is aiming to improve speech recognition tests for infants.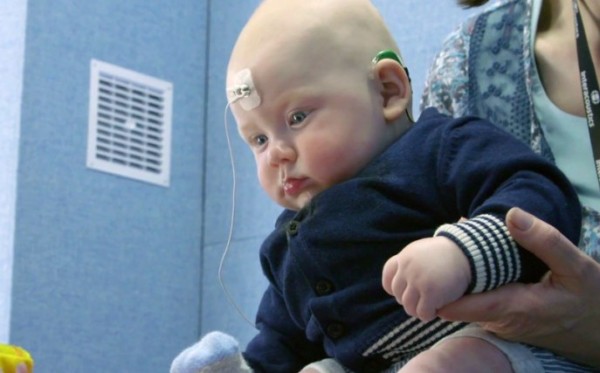 Led by Theme Lead Professor Kevin Munro, the initial study tested infants aged 5-39 weeks old for a type of brain wave called a cognitive auditory evoked potential (CAEP). CAEPs are produced in the auditory cortex, the part of the brain which processes sound. Further research by the team has demonstrated how the test can work for infants with hearing loss.
Presence of CAEPs in response to different types of speech sound, tells us that those sounds are being heard by infants when they wear their hearing aids.
Speaking of the study, Professor Munro said:
"Through our Hearing Health research, Manchester BRC is using audiological biomarkers to develop the latest techniques for detecting hearing loss. Diagnosing this at the earliest stage possible is vital to a baby's development, and means we can identify the best treatment for them sooner.
"In the UK, detecting hearing loss in newborns has improved massively in the last two decades. CAEPs help identify whether the brain is responding to speech, which we know to be crucial in a child's learning and development.
"With this initial study we wanted to see whether testing for CAEPs was suitable at such a young age, and whether parents felt it was acceptable too. Results were very promising, which has now led us to carry out further research to test its effectiveness in babies with hearing loss who wear hearing aids.
"Eventually we hope the test will become standard practice within paediatric audiology clinics, and help improve management of hearing loss for young infants."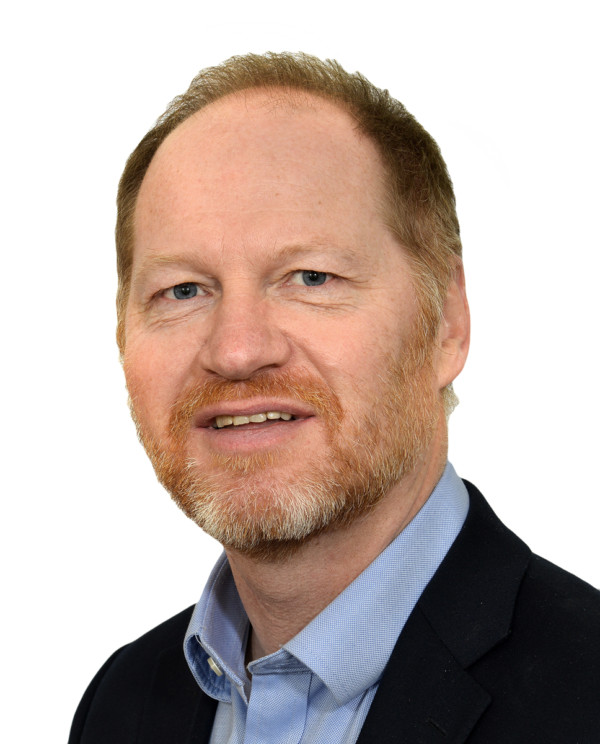 Visit our biomarkers webpages for more information on our research.
You can also follow our Biomarkers Week content on Twitter; search for #MCRbiomarkers or @ManchesterBRC.