Your Path in Research – BRC PhD student – Vicky Smith
Bladder cancer is one of the most common cancers in the UK*, with around 10,200 people diagnosed each year. It's also the seventh highest cancer to cause death, with around 15 people losing their lives to the disease every day.
Around half of patients will see their disease return a few years down the line, often in a more aggressive state, which is harder to treat. However, with improvements in research, care and treatments, around 64 per cent of people are expected to survive the disease by 2035.
For my PhD, I'm trying to develop a biomarker to detect whether a patient's bladder cancer is likely to return. Part of this involves investigating the different immune cells present in the tumour, specifically when the supply of oxygen is low, called hypoxia.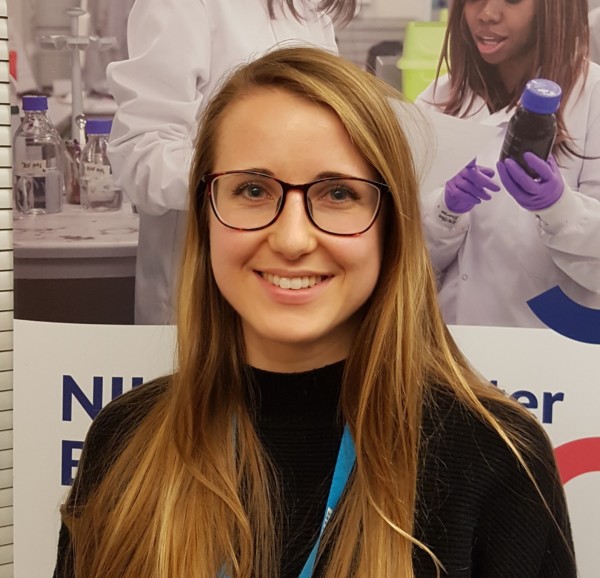 Sadly, at the moment only 50 per cent of patients with bladder cancer will survive 10 years or more. This is mostly due to the disease coming back a few years after the first treatment, called recurrence, which occurs regardless of which treatment patients are given.
For my PhD I'm using genetic material from patient tumour biopsies, alongside human bladder cancer cells grown in the lab. With these, I'm trying to find a specific set of genes, called a gene signature, which could tell us which tumours are more likely to come back after radiotherapy treatment.
Hopefully this set of genes could then identify patients with these kinds of tumours earlier, before they have radiotherapy. This is a more precision-based approach, and would allow us to personalise their treatment to reduce the likelihood of the cancer coming back in the future.
Developing this into a biomarker, where a simple test could tell if their cancer is likely to return, could help decide initial treatments; sparing patients further distress and unnecessary treatments later down the line.
Bladder cancer is currently often treated with radical cystectomy, which involves the surgical removal of the bladder and potentially the surrounding organs, followed by radiotherapy treatment. Cystectomy is a really unpleasant procedure, and unfortunately has a big impact on a patient's quality of life afterwards.
However, some patients may not be fit enough for surgery so just receive radiotherapy. Surprisingly, this has similar outcomes to having surgery and radiotherapy, but much less of an impact on a patient's quality of life after treatment. Radiotherapy is particularly effective for patients with muscle-invasive bladder cancer, where the tumour has spread out of the inner lining of the bladder, and often cures their disease.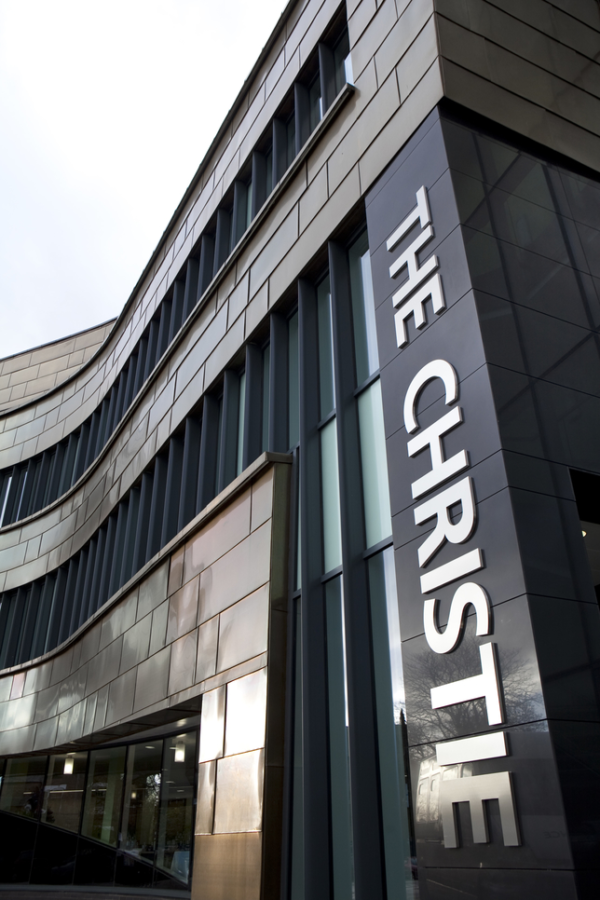 We're trying to further improve and personalise radiotherapy treatment in order to minimise the number of patients who have surgery, as well as reduce the number of patients that come back in a few years with a recurrence of the disease.
This includes combining radiotherapy with new immunotherapies to improve how the immune system fights the tumour, as well as hypoxia-modifying therapies to increase the oxygen in the tumour, which results in the radiotherapy treatment being a lot more effective.
Whilst I'm still early on in my career, I've had my sights set on a career in cancer research since was around 12 years old. My tennis coach, Pete Bolton, sadly passed away and it made me wonder 'why can't we cure this disease yet?' Unfortunately over the years since then, lots of family friends and close personal friends have had loved ones pass away due to cancer.
Over the years, my understanding of cancer, the many different types, and how incredibly complex these diseases are has grown. It fuels me to understand it, and help join in the research effort to try and prevent more cancer deaths by improving diagnosis and treatment.
I first researched bladder cancer while studying for my Biomedical Science undergrad at Queen's University Belfast, before briefly focusing on vulvar cancer during my masters at the University of Birmingham.
Since starting my PhD in 2018, I've been based at the Manchester Cancer Research Centre, opposite The Christie hospital. My research group is led by Professor Tim Illidge, BRC New Radiotherapy-Immunotherapy Combinations Programme Lead, but I also work closely with Professor Catharine West, BRC Advanced Radiotherapy Theme Lead.
Professor West's group have already published several papers on gene signatures, including on how bladder tumours respond to hypoxia, which is something I'm building on in my own work.
A big driver for me is the ever-deepening complexity of cancer research. Since starting in research I've realised how crafty the cancer cells are. They are constantly evolving, meaning that despite new treatments, tumours subsequently manage to become resistant to them after a while. Therefore, research is a constant and engaging process as we still discover and learn new things about tumours and it's incredibly interesting.
Studying here in Manchester appealed to me as I wanted a project that was translational; where the scientific discovery I was working on could have the potential to go straight into improving care and treatment for patients.
That's when I discovered the NIHR Manchester Biomedical Research Centre PhD. The aim of BRCs is to identify and accelerate areas of translational research, and the NIHR doesn't fund research on animals, which was an essential criterion for me.
Manchester is a great place to be in cancer research, due to the collaboration between The University of Manchester, The Christie (both part of the BRC) and the Cancer Research UK Manchester Institute. This means there's a lot of exciting research and collaboration going on, as well as a wealth of resources and learning opportunities for early career researchers like me, which was a major selling point.
So, there's a bit about me and my work, but just a final bit of advice on Bladder Cancer Awareness…
Similar to other types of cancer, your risk of bladder cancer depends on a complex relationship between age, genes and other lifestyle factors.
However, almost half of cases can be prevented. Around 45 per cent of cases are linked to smoking alone, so stopping smoking is the biggest action that can reduce your risk.
For information about how you can follow a career in research, click here to read about the NIHR's 'Your Path in Research' campaign.
*Bladder cancer stats taken from CRUK website:
https://www.cancerresearchuk.org/health-professional/cancer-statistics/statistics-by-cancer-type/bladder-cancer