National magazine reports lead BRC researcher's insights on precision medicine and Rheumatoid Arthritis
MSK Theme Lead, Professor Anne Barton and patient, Nick Hornsey, have been talking to national magazine, Arthritis Digest, about precision medicine and its application to Rheumatoid Arthritis (RA).
'Arthritis Digest' summarizes the latest research in arthritis and encourages arthritis sufferers to learn, try new ideas and explore their treatment options.
In the first edition of 2019, Professor Barton discusses precision medicine-related research developments in RA and results already seen by patients and their clinicians.
RA affects 1 in 100 people and, although more common in the older age group, can affect people of any age.
It is important to get on top of joint inflammation as quickly as possible; the earlier inflammation comes under control, the better.
However, each RA drug is ineffective in up to 1 in 5 patients.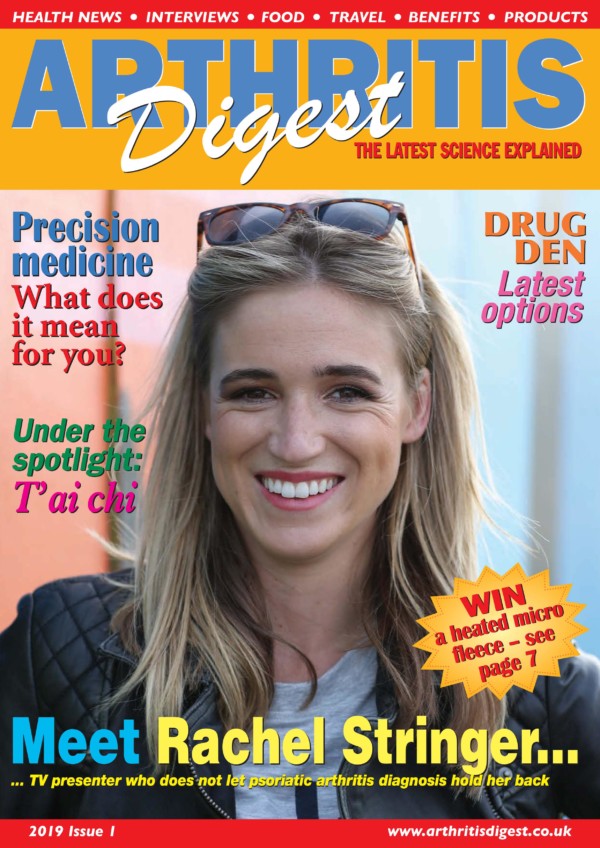 Professor Barton told Arthritis Digest:
Currently, we can't tell who will and who won't improve on a particular treatment so we try the drugs until we find one that works. Precision medicine aims to target the right drugs to the right patients so that inflammation is brought under control more quickly and effectively. Ultimately, this should lead to improved care and a better quality of life for patients.
In the two page spread, 71 year old patient, Nick Hornsey, describes his RA diagnosis, treatment and participation in RAMS (Rheumatoid Arthritis Methotrexate Starters) study.  This research aims to develop tests to help predict whether, or not, a person is likely to respond to the disease-modifying, anti-rheumatic drug, methotrexate.
Nick, from Congleton in Cheshire, said: "Research like this is so important to help both medical teams and patients learn more about arthritis, the causes, and how people respond to treatment."
To read the article, 'Under the spotlight: precision medicine. What does it mean and why should we care' see below.