Manchester BRC researcher receives prestigious international early career research honour
A researcher at Manchester BRC has won a celebrated international prize, in recognition for his work in respiratory (breathing related) research.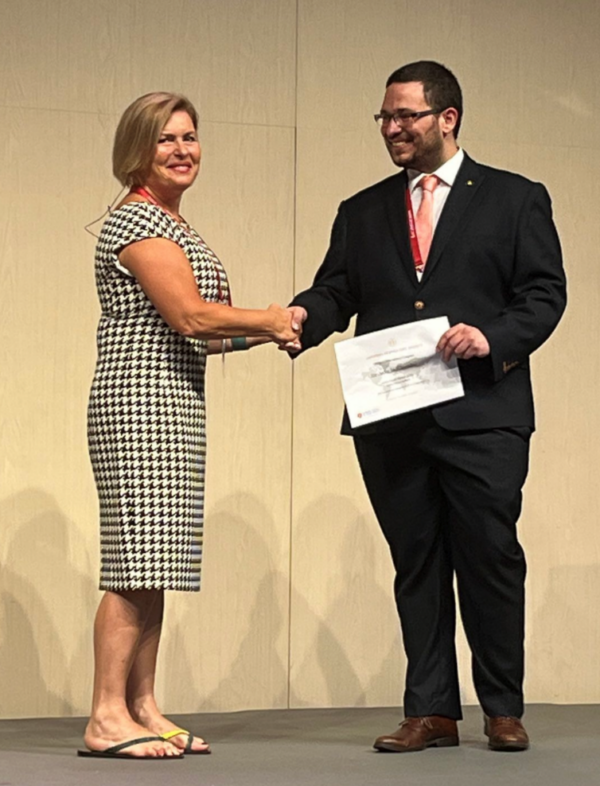 Dr Alexander Mathioudakis, Manchester BRC Researcher and Clinical Research Fellow based at Wythenshawe Hospital – which is part of Manchester University NHS Foundation Trust (MFT)_ – was awarded the European Respiratory Society (ERS) Early Career Member Award in Barcelona, at the society's 2022 Conference.
The ERS is the largest scientific and clinical organisation in respiratory medicine globally, and presents this prize to one early career respiratory researcher each year in celebration of their academic achievement and contribution to the ERS.
Dr Mathioudakis, who is also a National Institute for Health and Care (NIHR) Clinical Lecturer in Respiratory Medicine, said: "It is a great privilege and honour to be recognised by the ERS for my work."
The ERS award winner recently completed a PhD in Respiratory Medicine and Clinical Research Methodology, funded by Manchester BRC – which supports early career researchers.
His research focus is chronic obstructive pulmonary disease (COPD), a group of lung conditions that affects more than one in 10 people over 40-years-old and causes breathing difficulties.
The persistent symptoms of COPD include breathlessness and cough. It can limit someone's ability to complete their daily activities or to socialise and sometimes impact their ability to care for themselves.
Dr Mathioudakis said: "One in three people with COPD suffer from worsening of symptoms – also known as 'exacerbations' or 'flare-ups' – every year. Flare-ups are responsible for one in eight cases of all hospital admissions in the UK and COPD is the third leading cause of death globally.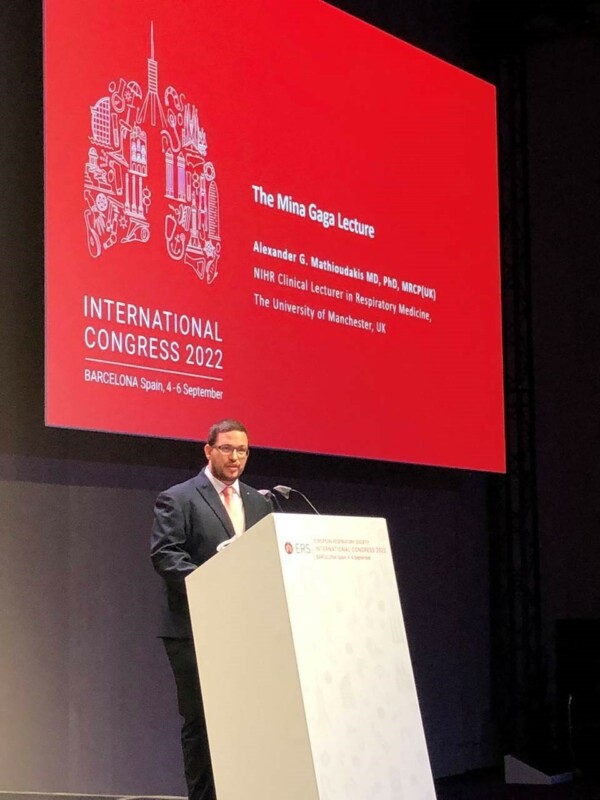 Through my NIHR Clinical Lectureship in Respiratory Medicine and continued support by my colleagues at Manchester BRC, and MFT I am excited to have the opportunity to develop personalised treatments for COPD, both during stable COPD conditions and flare-ups.
Dr Mathioudakis will be co-leading the SYNESIS study, an international clinical trial aiming to personalise the management of COPD exacerbations, that will be conducted by  DECODE-NET (DisEntangling Chronic Obstructive pulmonary disease Exacerbations: a global clinical trials NETwork), led by Professors Jørgen Vestbo (Manchester) and Alberto Papi (Ferrara, Italy).
Dr Mathioudakis continued: "I am immensely grateful to my mentor, Professor Jørgen Vestbo, an inspiring supervisor and world-leading expert in COPD, whose guidance, supervision and support allowed me to develop my academic and clinical skills.
"I also want to thank the academic and clinical respiratory team at Wythenshawe Hospital for nurturing a very educational, supportive and friendly environment."
Professor Jørgen Vestbo, Manchester BRC Respiratory Theme Lead, and an Honorary Consultant at MFT, said: "I am absolutely delighted for Alexander. Manchester BRC and MFT are proud and keen to support clinical researchers to develop in their careers.
I anticipate seeing Alexander attain many future successes and am also looking forward to working with him on several exciting research studies that we aim to see improve the management and outcomes of patients with COPD.