First Manchester trial of combined imaging techniques underway with cervical cancer patients
A newly launched radiotherapy study, involving cervical cancer patients, is the first in Manchester to simultaneously combine two different examinations techniques: PET-MR with tracer administration.
The Principal Investigator, Professor Ananya Choudhury, is one of the leading researchers in the NIHR Manchester BRC Advanced Radiotherapy theme.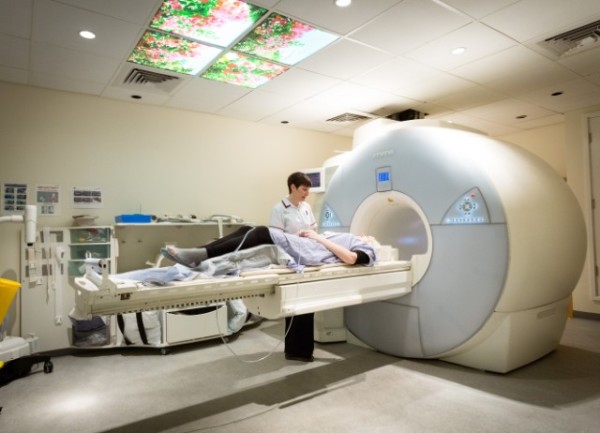 The year-long study, which is being conducted at Saint Mary's Hospital, is reviewing the on-going viability of using PET and MRI scanning together in order to assess the tumour hypoxia of women with cervical cancer.  Every year in the UK 3,000 new cases of cervical cancer are diagnosed.
Hypoxia (lack of oxygen) in a tumour causes biological resistance to radiotherapy which is a widely-used treatment for patients with locally advanced cervical cancer.  Other hypoxia-linked side-effects for patients are poor control and increased recurrence of cancer.  Five year survival rates for cervical cancer patients undergoing (chemo) radiotherapy are low – less than 60%.
In the study, 15 women will be scanned twice in The University of Manchester-owned PET-MRI scanner before their standard treatment begins.  Patients will be recruited from clinics at The Christie for this single centre study.
The dual approach research provides non-invasive measures of tumour hypoxia by using a targeted tracer (FAZA-PET), which highlights hypoxic regions, and examining the tiny blood vessels supplying oxygen to the tumour (DCE-MRI).  Currently, neither technique is used in clinic due to a lack of technical validation, including their feasibility and repeatability.
To tailor the most effective care, we need to identify those patients with hypoxic tumours. Combining these two examinations in one imaging session will improve patient comfort, better integrate results from both modalities and offer the possibility of detecting smaller hypoxic regions. No previous study has used PET-MRI to simultaneously acquire FAZA-PET and DCE-MRI to assess tumour hypoxia and the repeatability of these measures in cervical cancer is currently unknown. This work is the first step towards the introduction of hypoxia-based adaptive radiotherapy in cervical cancer.
Professor Ananya Choudhury
The research, 'Cervical Cancer Hypoxia Imaging Repeatability (CCHIRAL)', is part of a programme targeting hypoxia in the Advanced Radiotherapy theme.
It is being funded by the Medical Research Council Confidence in Concept scheme.  The funding was secured by Dr Lucy Kershaw, the study's Chief Investigator and, formerly, closely associated with the Manchester BRC.