Addressing health inequalities
Our work to address health inequalities is driven by the Health Inequalities Steering Group (HISG). Led by Vocal – the team that brings people and health researchers together – and with members drawn from across the Greater Manchester (GM) research landscape, the group works to collectively address health inequalities in the research that Manchester BRC and Manchester CRF design, undertake and communicate.
The group exerts strategic influence and conducts activities across GM research infrastructure, in order to promote inclusive research.
Our aim and approach
We ultimately aim to reduce health inequalities by embedding inclusive research across GM – bench to bedside research that takes deliberate action to meet the health research needs of different people, to address barriers to inclusion and to promote environments where everyone feels included, respected and valued. This includes making participation in research accessible, the active involvement of people from all walks of life in research, and partnership working.
We prioritise research that is:
most relevant to poor health outcomes and/or linked to GM priorities
examines barriers to participation and explore approaches to broaden access
develops more inclusive practices for both research participation and involvement.
Our highlights from 2020-2021
Telling our story
We have continued to tell our story of impact – how clinical research and public involvement can make a difference to health inequalities, through co-authored blogs on inequalities in the research response to COVID-19, and as co-presented webinars on COVID-19, inequalities and public involvement. We have additionally co-created events – including as developers and speakers at the Reaching New Members in a Virtual World event – and informed policy with our public contributor, including input to government inquiry on COVID-19 and inequalities.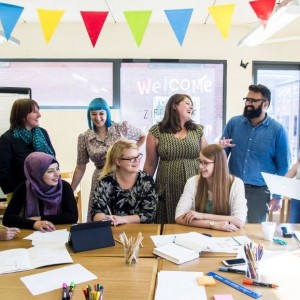 Case Studies: Addressing Health Inequalities
(opens in new window)
Read our case studies on how researchers are addressing health inequalities
Addressing researcher barriers
We have addressed barriers and opportunities to deliver inclusive research by responding to the needs of our health researchers.
We have developed detailed health inequalities briefing notes for Manchester BRC researchers across our cancer, musculoskeletal, and respiratory themes. With Vocal, the Black Asian and Minority Ethnic Research Advisory Group (BRAG), The University of Manchester's i3HS Hub, and as part of the Manchester BRC training programme, we have co-developed an Inclusive Research eLearning module, which is free to access and aimed at both researchers and public contributors.
Analysis of demographic data
We have analysed demographic data related to research participation across Greater Manchester and are undertaking a second equality review of participation in Manchester CRF research, with potential for implementation in Manchester BRC research. This data will be compared to selected national and local comparison data, and we are embedding methods to review the demographics of our participation across Manchester CRF research – and act on the findings. The heatmap below provides a snapshot of our participation across the North West.
Research involvement
More than 500 public contributors are actively involved in the work of Manchester BRC and Manchester CRF, with Patient and Public Involvement and Engagement (PPIE) in research supported by Vocal at all levels. All public are provided with feedback on the impact of their input and are remunerated in line with NIHR guidelines.
Place-based activities
Our localised approach interventions have included working in the Wigan area; engaging with community, primary care and patient groups, to better understand structural barriers to participation in experimental medicine research This builds upon the learning from place-based engagement programmes with respiratory research in Wythenshawe (Breathtaking Lungs), Advanced Radiotherapy research in Oldham and online (Radiotherapy & Me) and through engagement focused on mental wellbeing in Oldham (Ideas Fund).
Next steps for 2021-22
Our activities have highlighted how joined-up working across integrated care systems, local primary care services, research infrastructure and community organisations, is essential to supporting 'research-active' communities according to their needs. We continue the work of the HISG across our BRC, CRF, MFT and UoM partners to address inequalities through promoting inclusive research.
---
Blog series
Our addressing health inequalities in research features a range of voices from across NIHR Manchester BRC, CRF and MFT. The opening blog by Dr Bella Starling, Co-Director of Public Programmes, sets out the shared vision that everyone in our increasingly diverse society should benefit from translational research. Other blogs within the series give more specific examples of work taking place across the organisation. It is a living series, meaning blogs will continue to be added over time.